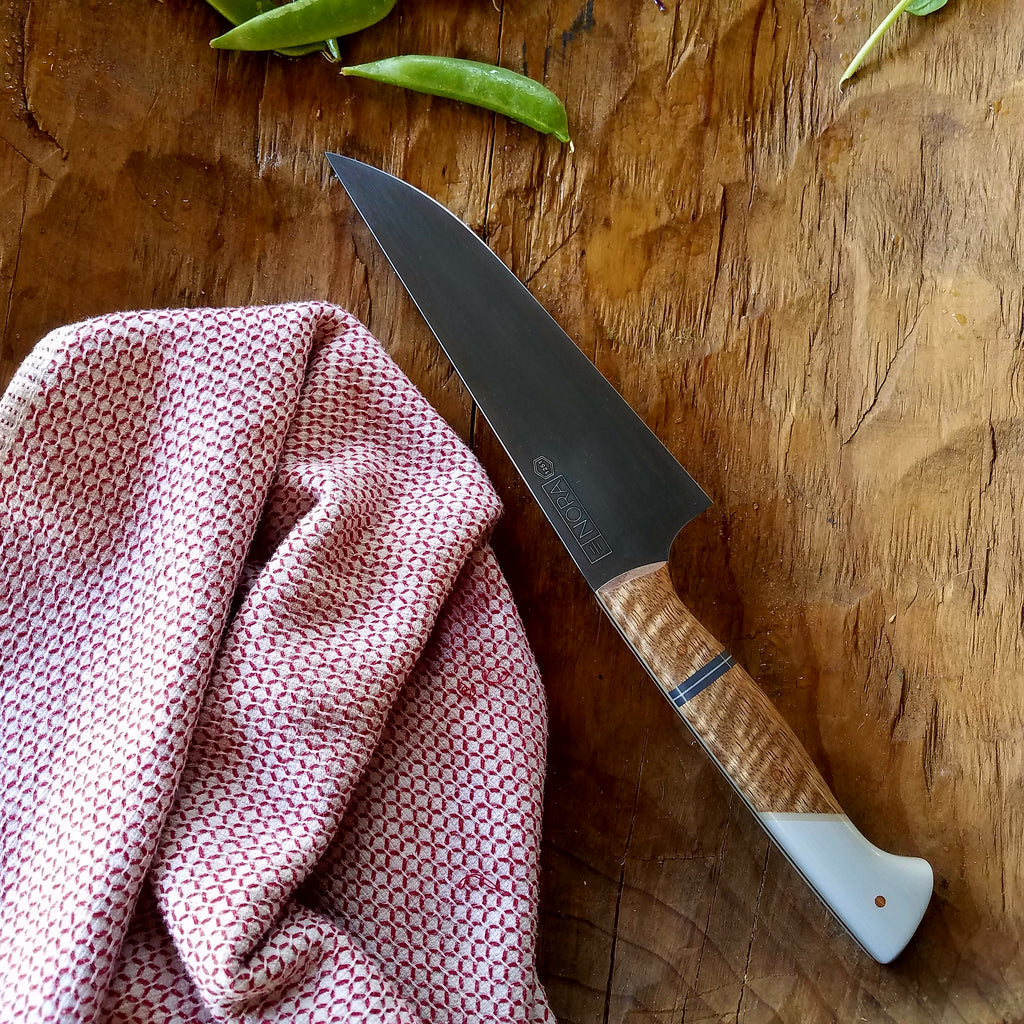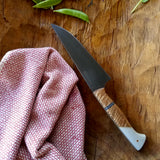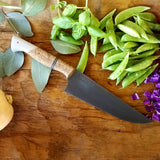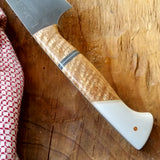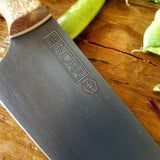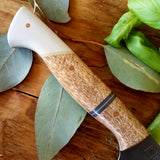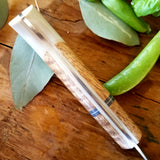 NORA #1251 - CPM-M4 Chef - Mango | Gray G10
$ 405.00
KNIFE HIGHLIGHTS
Blade Type: Chef
Blade Length: 7 Inches
Total Length: 12.25 Inches
Handle Style: Western | Right or Left Hand Use
Steel: CPM M4 Carbon Steel
Handle Materials: Stabilized Mango Wood, Gray G10, Dark Gray & Tan G10 Liners/Accents, Natural Micarta Pins
Rockwell Hardness: 66 HRC
Grind Type: Full Flat Hybrid
This Blade is Ground...

Thin for Performance (best performance but delicate)
Thick for Durability (tough, built to last for heavy wear-n-tear)
>>>Mid-Range with Special Geometry (specially ground for food release and glide but blade is kept slightly thicker for durability)
This Knife Feels...

Heavy in Hand (hefty, durable)
Light (nimble, maneuverable)
>>>Not too heavy, not too light (Switzerland)
GENERAL USES OF THIS KNIFE
CHEF KNIFE
Our take on the classic Chef knife. This is an extremely versatile knife that is a jack-of-all-trades worker and one of the single most important knives in a kitchen. 
This is a new, custom blade profile that we are introducing.  Coming in at a versatile 7 inches, the knife features a straight edge top and upswept nose.  This design is a perfect fit for those who like push cuts.  The knife rolls on the end allowing an easy feed of food through the flat edged chopping section of the knife.  Likewise, the G10 in the back of this knife provides a nice back weight and brings the balance point back slightly behind the blade heel.  It's a perfect fit for those who fully grip the entire length of the knife.  For those that use primarily a pinch grip this may feel a bit heavy in hand unless you actually prefer a weighty knife.
STEEL INFORMATION:
CPM- M4 CARBON STEEL
The blade on this knife is composed of a high carbon CPM M4 steel.  M4 is the best carbon steel we have ever used in regards to blade performance.  After doing a wide amount of research on this steel, we decided to give it a go and have been extremely impressed with its performance thus far.  
CPM M4 steel is unique in that it gets extremely hard. Hardness in steel generally equates to a finer edge and great edge retention. We took this blade to a solid 66 HRC which is incredibly hard compared to most production knives which fall in the mid to high 50's. 
The high hardness allows it to maintain amazing edge retention but unlike other steels at this hardness its not as brittle or delicate.  It is actually highly wear resistant which means you don't need to worry as much about the knife chipping or breaking. As an added bonus, M4 is surprisingly corrosion resistant when compared to other carbon steels.
Its a rugged knife for the performance it offers and this combination is rare when you harden steel to beyond 62 HRC.  Please note though that the steel isn't bullet-proof...if you drop the knife on a very hard surface or slam it down on a hard object, it is likely to chip.
The pros of this steel outweigh the cons in our opinion but it must be mentioned that this steel is harder to sharpen than many others so you will need to factor that into your decision as it does represent a bit more maintenance than other knives. On the flip side, you don't need to sharpen this knife nearly as frequently as others. 
**As this is a carbon steel, the blade will form a slight patina over time.  This is normal and is actually the mark of a beautifully used knife.  Please note, however, that a carbon knife does require more maintenance than its stainless steel counterpart, mainly that it must be washed or wiped clean shortly after each use to prevent unwanted rust or stains.  We have acid etched this knife to protect the steel and start the patina process.  Over time this etch will fade slightly and will be replaced by the individual patina you make while using the knife.
HANDLE DESIGN & MATERIALS:
Every one of our knives is handmade, unique and numbered.  This knife was an experiment in subtle, neutral colors.  We took a muted piece of stabilized curly mango wood and paired it with a light gray piece of G10.   Separating these two materials is a stripe of tan G10 which provides a very slight and subtle contrast.  Up top is a pin stripe featuring dark gray and another small stripe of tan G10 which coordinates with the tan G10 liners that bring the whole look together.  Its not initially apparent but there was a lot of work and love but into the small details on this knife.
Wood stabilization is an added feature that we offer with our knives. Wood that is stabilized has been injected with a clear acrylic resin under a vacuum process. Stabilization helps to minimize, if not eliminate, any cracking, warping, shrinkage and/or expanding of the material. Stabilized wood will absorb very little water and is generally impervious to oils. The process helps to ensure your knife has a long lifespan in the kitchen.
**We often get asked...what is G10? G10 is an incredibly strong & durable fiberglass laminate that was originally used in the electronics industry.  It has been adapted in the knife making world and has proven to be an excellent material for handles as it has high strength, low moisture absorption and can be found in a variety of colors.  Its one of our favorite materials to work with outside of wood.