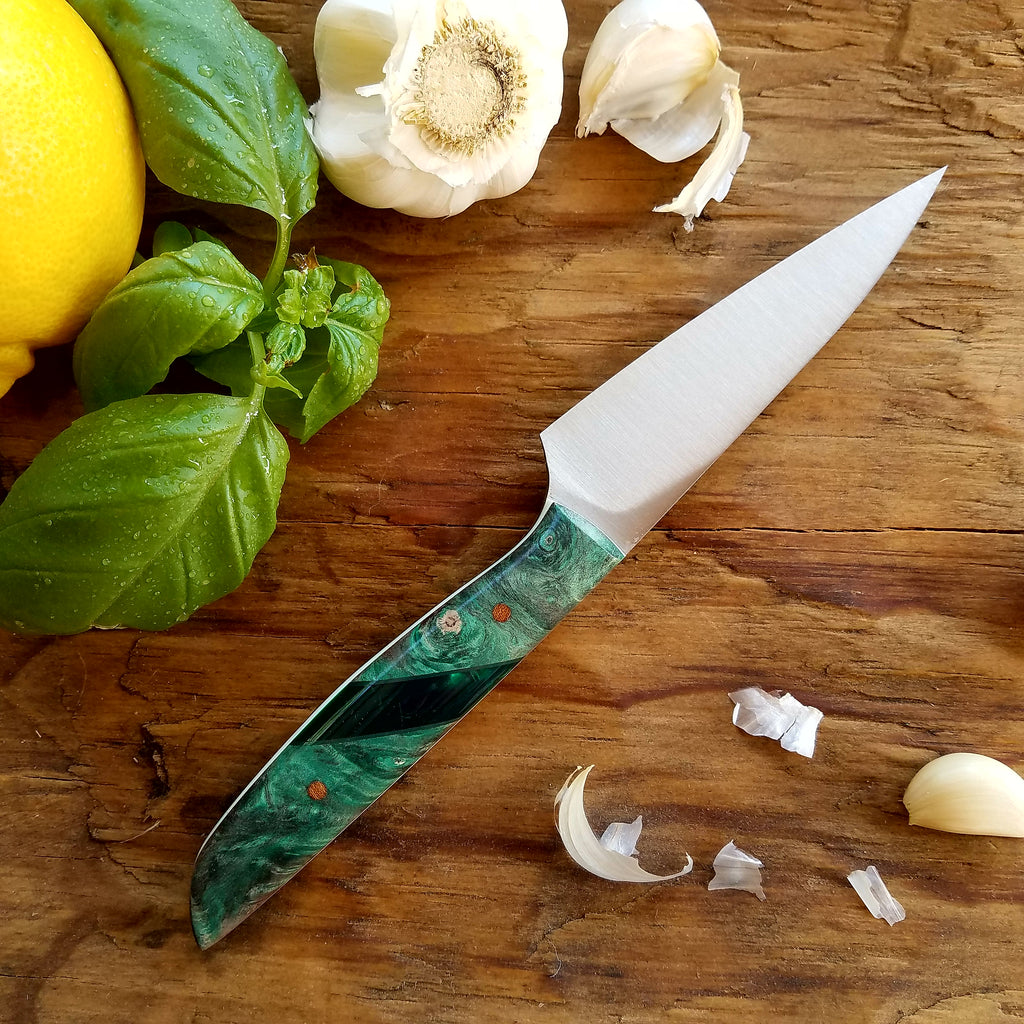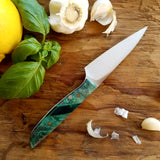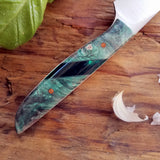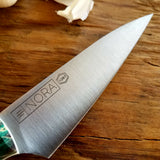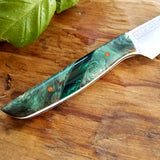 NORA #1267 - 3.5 Inch Paring - Green Box Elder
$ 199.00
KNIFE HIGHLIGHTS
Blade Type: Paring
Blade Length: 3.5 Inches
Total Length: 8 Inches
Handle Style: Western | Right or Left Hand Use
Steel: 52100 Carbon Steel 
Rockwell Hardness: 62 HRC
Grind Type: Full Flat
Handle Materials: Stabilized & Dyed Box Elder (green & brown hues), white G10 liner, Stainless Steel Pins, emerald green acrylic based resin with thin forest green G10 liners
This Blade is Ground...
Thin for Performance (best performance but also more delicate)

>>>Thick for Durability (tough, built to last for heavier wear-n-tear)

Mid-Range with Special Geometry (specially ground for food release and glide but blade is kept slightly thicker for durability)
This Knife Feels...
Heavy in Hand (hefty, durable)
Light (nimble, maneuverable)
>>> Not too heavy, not too light (Mid-Range Weight)
GENERAL USES OF THIS KNIFE
The paring knife is often overlooked but the truth is it is one of the single most-used knives in the kitchen. It is also unique with respect to where it is used...not just on a cutting board but also in hand. 
With this in mind, we redesigned our paring knife to have a smaller, more nimble handle that feels great in hand and gives its user a wide amount of maneuverability. This knife works wonderfully for small tasks that are easier completed by using the knife in-hand, such as hulling a strawberry, paring fruit, or deveining shrimp.
STEEL INFORMATION: 
52100 Carbon Steel
The blade on this knife is composed of a high carbon 52100 steel.  52100 steel is a great all around choice for carbon steel as it is easily sharpened and the fine grain structure produces a very sharp edge. It is also an economical alternative to some of the more expensive Japanese carbon steels while offering similar benefits and a more hardy steel. HRC hardness on this knife comes in at a solid 62. 
**As this is a carbon steel, the blade will form a slight patina over time.  This is normal and is actually the mark of a beautifully used knife.  Please note, however, that a carbon knife does require more maintenance than its stainless steel counterpart, mainly that it must be washed or wiped clean immediately after each use to prevent unwanted rust.**
HANDLE DESIGN & MATERIAL INFORMATION
Every one of our knives is numbered, handmade and unique. This lil' NORA knife has been handled with a beautifully simple piece of box elder that has been stabilized and dyed a deep green color.  Accenting this wood is a stripe of polished, emerald green resin (acrylic based).  (All green for the win!) Liner is white G10 and pins are stainless steel.
*Please note, there are tiny lines in this resin which may initially appear like cracks. They are not cracks but actually small lines in the resin itself. 
Wood stabilization is an added feature that we offer with our knives. Wood that is stabilized has been injected with a clear acrylic resin under a vacuum process. Stabilization helps to minimize, if not eliminate, any cracking, warping, shrinkage and/or expanding of the material. Stabilized wood will absorb very little water and is generally impervious to oils. The process helps to ensure your knife has a long lifespan in the kitchen.