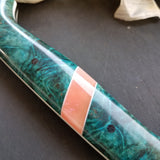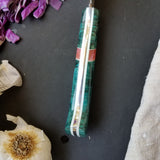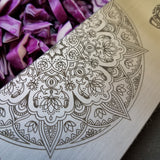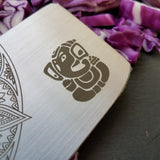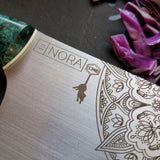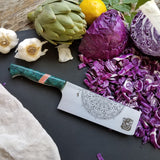 NORA Nakiri # 1348 - Samsara
$ 395.00
KNIFE HIGHLIGHTS
Blade Type: Nakiri
Blade Length: 6.5 Inches
Total Length: 11.75 Inches
Handle Style: Western | Right or Left Hand Use
Steel: AEB-L Stainless Steel
Handle Materials: Stabilized Box Elder Burl (dyed a teal blue), semi-translucent shimmering pink resin (urethane based), white G10 liners, black micarta pins
Rockwell Hardness: 62 HRC
Grind Type: Full Flat 
This Blade is Ground...

Thin for Performance (best performance but delicate! No bones, no frozen food, hard squashes, etc. )
Thick for Durability (tough, built to last for heavy wear-n-tear)
>>> Mid-Range (good performance but blade is kept slightly thicker for durability)
This Knife Feels...

>>> Heavy in Hand (hefty, durable)
Light (nimble, maneuverable)
Not too heavy, not too light (Switzerland)
GENERAL USES OF THIS KNIFE:
NAKIRI
The Nakiri knife is a Japanese style knife that is specifically designed to excel at cutting and prepping vegetables and greens.  These blades are very thin and literally fall through food. Because of the thinness, these blades should not be used for cutting through any type of bone or harder objects but you would be surprised at the versatility of the Nakiri. We find we use ours for a wide array of tasks in the kitchen - everything from protein prep to bread.
The blade height is just over 2 inches which is larger than many other Nakiri's but we find it helps keep your knuckles off the board and it works well with many larger vegetables.  Please know that the larger blade height does make this a slightly hefty knife.  Some like a heavier knife, others prefer to keep it light.  We just like to provide all of this info up front so you know exactly what you will be getting.
HANDLE DESIGN & MATERIALS:
Every one of our knives is handmade, unique and numbered.  This NORA was specifically made with the Hindu faith in mind. Fun fact: Hindu is the third largest religion in the world and it is widely considered to be the oldest religion on earth. This is one in a small series of knives we made which each have a tie-in with a certain religion(s).  This is a one-of-a-kind knife and will never be reproduced.
We decided to go bright with this NORA handle because almost every visual depiction of a Hindu God we see tends to be clad in overwhelmingly bright colors.  A few examples can be found below.  Further, the colors are a nod to the beautifully vibrant sarees that are frequently worn by Indian women.
We used a stabilized box elder burl wood dyed in a vivid hue of teal blue and we accented this wood with a single stripe of semi-translucent pink resin.  We added a white G10 liner for durability and pins are a black micarta.
For the engraving on this one, we chose a partial mandala which is a term that literally means "circle" in Sanskrit.  The mandala is a spiritual symbol used in both Hinduism and Buddhism and it represents the universe as a whole and also aids in meditation practices. (or so we read)  We chose to feature it prominently mostly because it's beautiful.  The pattern, the detail... it's just gorgeous.
Aside from this mandala,  we also engraved a wood-cut like image of the Hindu God Ganesha. Ganesha is one of the most recognizable deities in the Hindu faith. He is known as a remover of obstacles, the patron of arts and sciences and a symbol of intellect and wisdom.  He is thought to grant success, prosperity and protection against adversity. Surely it can't hurt to have this helpful immortal by your side! 
Side note, the small mouse hanging from the knife number on this blade is Ganesha's vahana or mount.  In Hindu religion, most deities travel with mounts and in this case, Ganesha's mount is a mouse.  The small mouse is said to represent selfish desire and Ganesha's control over this mouse further solidifies his status as the Lord of Obstacles. 
We named this knife "Samsara" based on the Hindu belief of reincarnation and the cycle of death and rebirth that is an accepted basis of belief for both the Hindu and Buddhist religions.  (It is also, by the way, the title to an excellent movie if you ever get the chance to watch it.)
STEEL INFORMATION:
AEB-L STAINLESS STEEL
This knife blade is composed of AEB-L stainless steel which is a high-quality Swedish metal, originally developed for razor blades.  Recently, steel suppliers have made this steel available in thicker sheets and it has proven to be an excellent adaptation for the cutlery industry.
AEB-L has a beautiful balance of carbon and chromium and, with proper heat treatment, this steel produces both a very fine edge as well as excellent toughness and edge stability.  The fine grain structure also makes this steel very easy to sharpen. We believe it is one of the finest stainless steels available on the market today for use with kitchen knives.
As a side note, there are two things we like to mention about this steel:
1.) This steel responds beautifully to honing and if the knife is honed regularly it should need infrequent sharpening.
2.) AEB-L is a stainless steel but just barely.  The higher carbon content in this stainless is what allows it to get a fine edge and higher hardness than other stainless steels but it also has a tendency to sometimes form very fine rust spots on the blade.  If this happens, these are easily removed with a green scotch brite pad and usually the rough end of a kitchen sponge will also do the trick. 
CUSTOM ENGRAVING:
This knife has been custom engraved.  The engraving was done via dual diode laser so there is depth to the engraving more so than you see with an electro etch. We do, however, keep the depth minimal so it does not catch food and minimally interferes with the primary cutting function of the knife. A small amount of stickage is normal around the engraved area, especially initially. This will lessen over time as the blade is used.  Please note though, if performance is your #1 priority then we encourage you to NOT purchase this blade.  A blade with no engraving WILL have a smoother glide than a blade with engraving.  For most, however, this difference is so minimal that it is barely noticed.  We just like to provide a full disclosure up front so you know exactly what you are purchasing.
The engraving should last as long as the knife itself but please note that it will slightly degrade over time as abrasives are used on the knife. We recommend the soft end of a sponge with soap and water for cleaning and mineral oil periodically to condition the blade (and handle). Keep in mind that stronger abrasives, such as steel wool, scotch brite pads, sand paper or stone sharpening directly on the engraved image will further degrade the image.