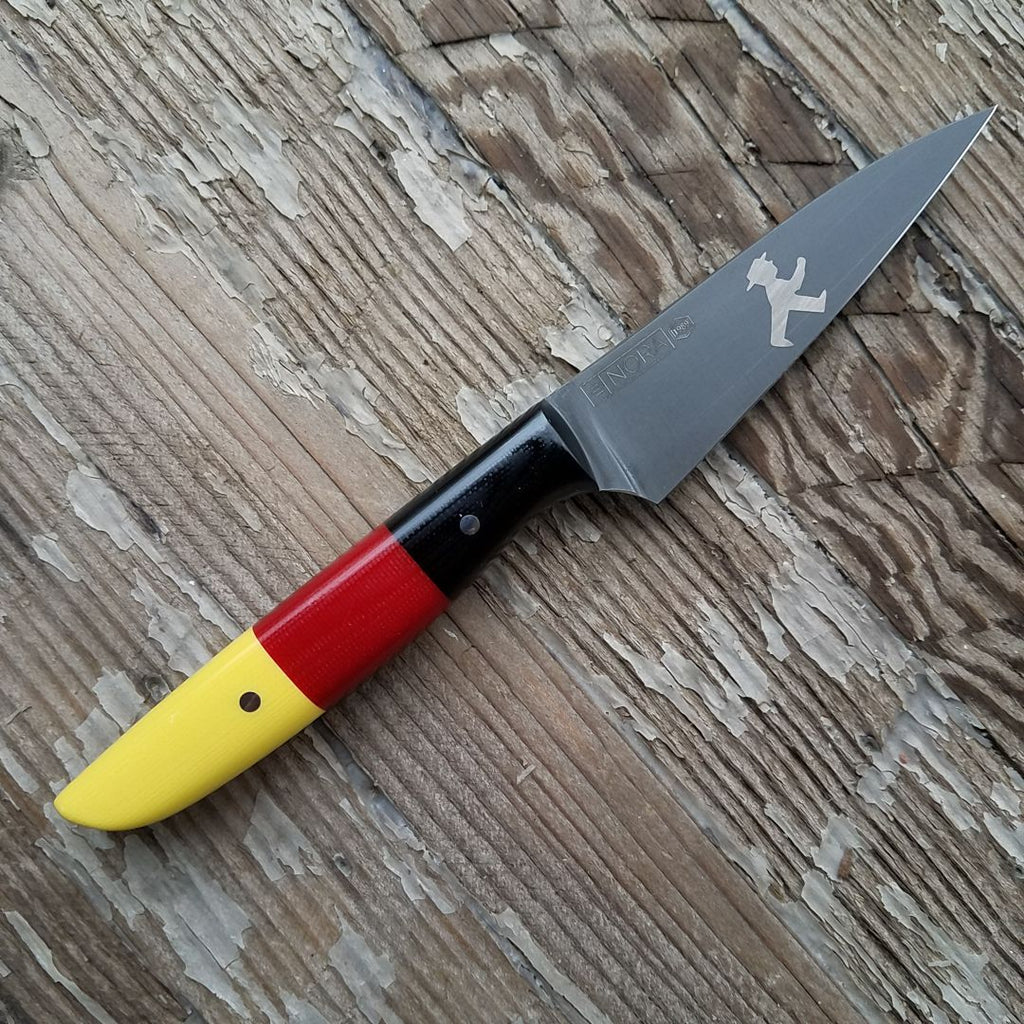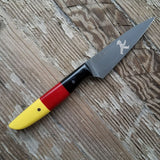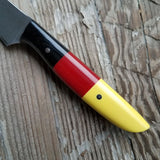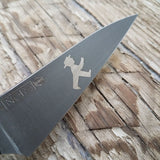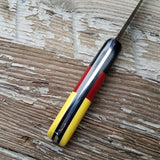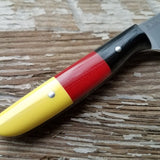 NORA #1989 - 3.5' Paring - 52100 Carbon Steel - Ampelmännchen
$ 219.00
KNIFE HIGHLIGHTS
Blade Type: Paring
Blade Length: 3.5 Inches
Total Length: 8 Inches
Handle Style: Western | Right or Left Hand Use
Steel: 52100 Carbon Steel
Rockwell Hardness: 61 HRC
Grind Type: Full Flat
Handle Materials: Yellow, Black & Brick Red G10, Black G10 liners, Stainless Steel Pins
This Blade is Ground...
Thin for Performance (best performance but also more delicate)

>>>Thick for Durability (tough, built to last for heavy wear-n-tear)

Mid-Range with Special Geometry (specially ground for food release and glide but blade is kept slightly thicker for durability)
This Knife Feels...
>>> Heavy in Hand (hefty, durable)

Light (nimble, maneuverable)
Not too heavy, not too light (Mid-Range Weight)
GENERAL USES OF THIS KNIFE
The paring knife is often overlooked but the truth is it is one of the single most-used knives in the kitchen. It is also unique with respect to where it is used...not just on a cutting board but also in hand. 
With this in mind, we redesigned our paring knife to have a smaller, more nimble handle that feels great in hand and gives its user a wide amount of maneuverability. This knife works wonderfully for small tasks that are easier completed by using the knife in-hand, such as hulling a strawberry, paring fruit, or deveining shrimp.
HANDLE DESIGN & MATERIAL INFORMATION
Every one of our knives is handmade, unique and numbered in order of production since we originally began NORA. There are a few exceptions to this rule though and this little paring is one of them.
This NORA paring knife, numbered 1989, represents the year that the Berlin wall fell. Of course the fall of the wall had huge implications, but on a personal level it allowed me to meet Silke, my East German roommate from college. This knife is a small homage to her. Silke helped me fall in love with Berlin, taught me all the best German swear words, and tolerated my excess as an young American girl abroad. 
The handle here is made from G10 striped in the colors of the German flag.  As an added something, I engraved the Ampelmännchen which is something I fondly remember from Berlin.  If you've been to Germany, or are from Germany, this is likely a familiar site.  This funny figure, literally translated as little traffic light man, guides people across the roads in Germany and is one of the few symbols that survived from Communist East Germany.  It has remained popular ever since then and now it finds its way on to our humble little knife here on the other side of the world. We hope someone else is as fond of him as we are.
We made the handle from a near indestructible material called G10. What is G10 you ask? G10 is an incredibly strong & durable fiberglass laminate that was originally used in the electronics industry.  It has been adapted in the knife making world and has proven to be an excellent material for handles as it has high strength, low moisture absorption and can be found in a variety of colors.  Its one of our favorite materials to work with outside of wood.
STEEL INFORMATION:
52100 Carbon Steel
The blade on this knife is composed of a high carbon 52100 steel.  52100 steel is a great all around choice for carbon steel as it is easily sharpened and the fine grain structure produces a very sharp edge. It is also an economical alternative to some of the more expensive Japanese carbon steels while offering similar benefits and a more hardy steel. HRC hardness on this knife is at a solid 62. 
**As this is a carbon steel, the blade will form a slight patina over time.  This is normal and is actually the mark of a beautifully used carbon steel knife. We've etched this knife to start the patina process and protect the blade but it will still form its own unique patina despite this etch.  Again, if you don't like the look of a patina'd knife, we don't suggest that you purchase a carbon steel knife.  For some a patina looks like stains...for us it just looks like love.  To each their own and we get it.  We just want to give you full disclosure up front.
Please also note that a carbon knife does require more maintenance than its stainless steel counterpart, mainly that it must be washed or wiped clean immediately after each use to prevent unwanted rust or deep pitting.**