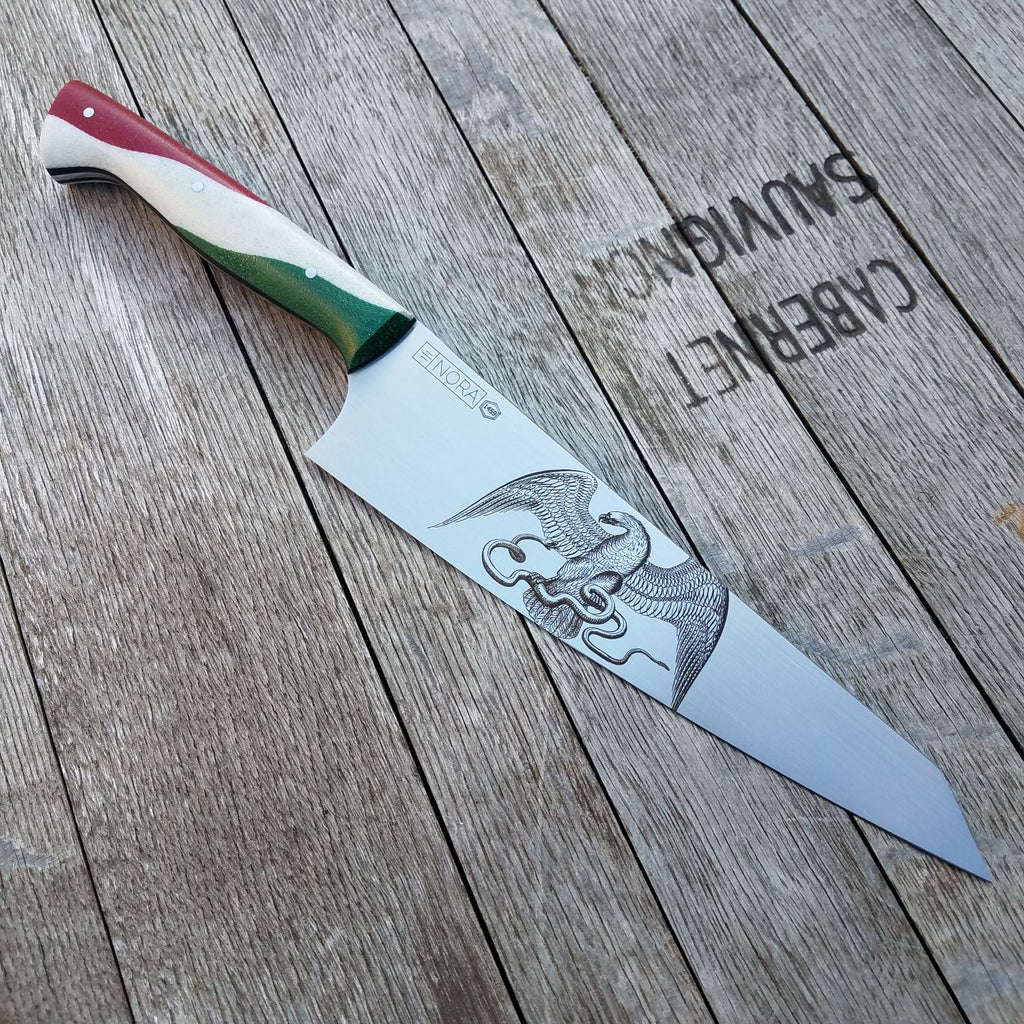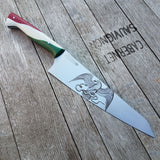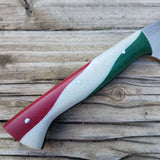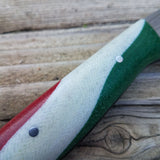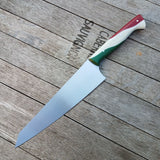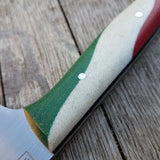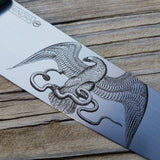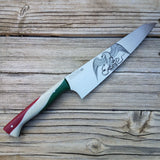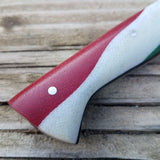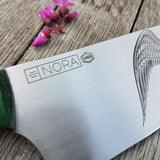 NORA #1459 - 8' AEB-L Gyuto - ¡ Viva México !
$ 336.25 $ 406.25
KNIFE HIGHLIGHTS
**Please note this knife was discounted due to a perceived COSMETIC flaw in the handle.  For whatever reason the white in this micarta has specks of what look like dirt.  It's not dirt...it likely is inherent to the material itself but because we could not get this piece sparkling white we have discounted it.  Please DO NOT purchase this knife if you feel this will bother you.  It is purely cosmetic in nature but it bothers us enough that we do not feel right not disclosing it.  Take a close look at the pics and you can decide if this fits for you or not.
Blade Type: Gyuto (Essentially a Japanese Style Chef Knife)
Blade Length: 8 Inches
Total Length: 12.50 Inches
Handle Style: Western | Right or Left Hand Use
Steel: AEB-L Stainless Steel
Handle Materials: Custom Pressed Micarta with patterned Red, Green & White Duck Canvas encased in resin, Black G10 liners, Stainless Steel Pins
Rockwell Hardness: 62 HRC
Grind Type: Full Flat Hybrid - Performance Grind (3 different bevels blended)
This Blade is Ground...

Thin for Performance (best performance but delicate)
Thick for Durability (tough, built to last for heavy wear-n-tear)
>>> Mid-Range with Special Geometry (specially ground for food release and glide but blade is kept slightly thicker for durability)
This Knife Feels...

Heavy in Hand (Hefty. Durable.)
Light (nimble, maneuverable)
>>> Not too heavy, not too light (Switzerland.  Fitting weight for the size of the knife.)
GENERAL USES OF THIS KNIFE:
GYUTO
The Gyuto is the Japanese version of the classic Western chef's knife but the blade tends to be thinner with less belly and holds a sharper edge. A gyuto is similar to a utility knife in that it is a multipurpose knife that can handle virtually every task including chopping, mincing and slicing meat, fish, vegetables and fruit.  Our gyuto has a long, western style handle with a thin nimble neck which makes the knife easy to grip and form into your hand. The blade is a Japanese inspired profile but with just a little belly in the blade to allow for a gentle rocking motion.
ENGRAVING:
We found this image a while back and we knew we wanted to have it on a knife made in honor of Mexico.  This is a vintage illustration from 1881 and it was an exercise in penmanship and calligraphy. If you look closely you will notice wonderfully elegant swirls that come together to make the wings of the eagle.  It's really just beautiful imagery.
As is probably clear to you, this image pictures an eagle holding a snake which mimics the imagery on the Mexican state flag.  No hidden symbolism here...we wanted clear, patriotic imagery on this knife and I think this beautiful engraving, paired with the tri-colored handle, nails it. ( What better way to pay tribute to the country that made carnitas.)
**This knife has been custom engraved.  The engraving was done via a dual diode laser so there is depth to the engraving more so than you usually see with an electro etch or CO2 laser. We try to keep the depth relatively minimal so it does not catch food and minimally interferes with the primary cutting function of the knife. A small amount of stickage, however, is normal around the engraved area, especially initially. This will lessen over time as the blade is used.  If the sticking is far more pronounced then you would like then use a Quad Zero (#OOOO) steel wool ball and gently smooth it over the knife to remove any burr that is left over from the engraving. (This essentially helps speed the break-in period on the engraving.)
The engraving should last as long as the knife itself but please note that it will slightly degrade over time as abrasives are used on the knife. We recommend the soft end of a sponge with soap and water for cleaning and mineral oil periodically to condition the blade (and handle). Keep in mind that stronger abrasives, such as coarse steel wool, scotch brite pads, sand paper or stone sharpening directly on the engraved image will degrade the image over time if continually used.  
HANDLE DESIGN & MATERIALS:
Every one of our knives is handmade, unique and numbered.  This NORA has been handled with an ultra-durable piece of micarta, made from patterned duck canvas and epoxy resins.  The colors and design are meant to represent the colors in the Mexican flag. Likewise, the engraving is a take on the imagery in the Mexican flag as well.
As far as durability and longevity go, this material is about the best you can do.  Micarta is very low maintenance, has excellent grip, and is damn near indestructible.  In the past, micarta was looked at as a purely functional material so there was very limited variations in terms of color or pattern, but recently small producers have been taking micarta to a new level with designs and new colors that are just now becoming available.  This particular piece of micarta comes from a small maker in Northern California (aptly named: "Unique Micarta") who is making some amazing scales made with patterned, duck canvas micarta. We are happy to have his product on our knives and we really love the combination of sheer durability paired with cool design.  We added a black G10 liner as an accent and finished with stainless steel pins. Clean sleek knife and the design carries the same vibe.  Please note that the micarta is kept matte in finish such that the material remains grippy for the user.  
STEEL INFORMATION:
AEB-L STAINLESS STEEL
This knife blade is composed of AEB-L stainless steel which is a high-quality Swedish metal, originally developed for razor blades.  Recently, steel suppliers have made this steel available in thicker sheets and it has proven to be an excellent adaptation for the cutlery industry.
AEB-L has a beautiful balance of carbon and chromium and, with proper heat treatment, this steel produces both a very fine edge as well as excellent toughness and edge stability.  The fine grain structure also makes this steel very easy to sharpen. We believe it is one of the finest stainless steels available on the market today for use with kitchen knives.
As a side note, there are two things we like to mention about this steel:
1.) This steel responds beautifully to honing and if the knife is honed regularly it should need infrequent sharpening.
2.) AEB-L is a stainless steel but just barely.  The concept of stainless steel is very misleading because every steel is, at some level, reactive to water and other elements.
The higher carbon content in this stainless is what allows it to get a fine edge and higher hardness compared to many other stainless steels but it also has a tendency to sometimes form very fine rust spots on the blade.  If this happens, these are easily removed with a green or red scotch brite pad and usually the rough end of a kitchen sponge will also do the trick. Take extra care to remove any excess wetness that remain on this blade. Drip drying is NOT recommended.