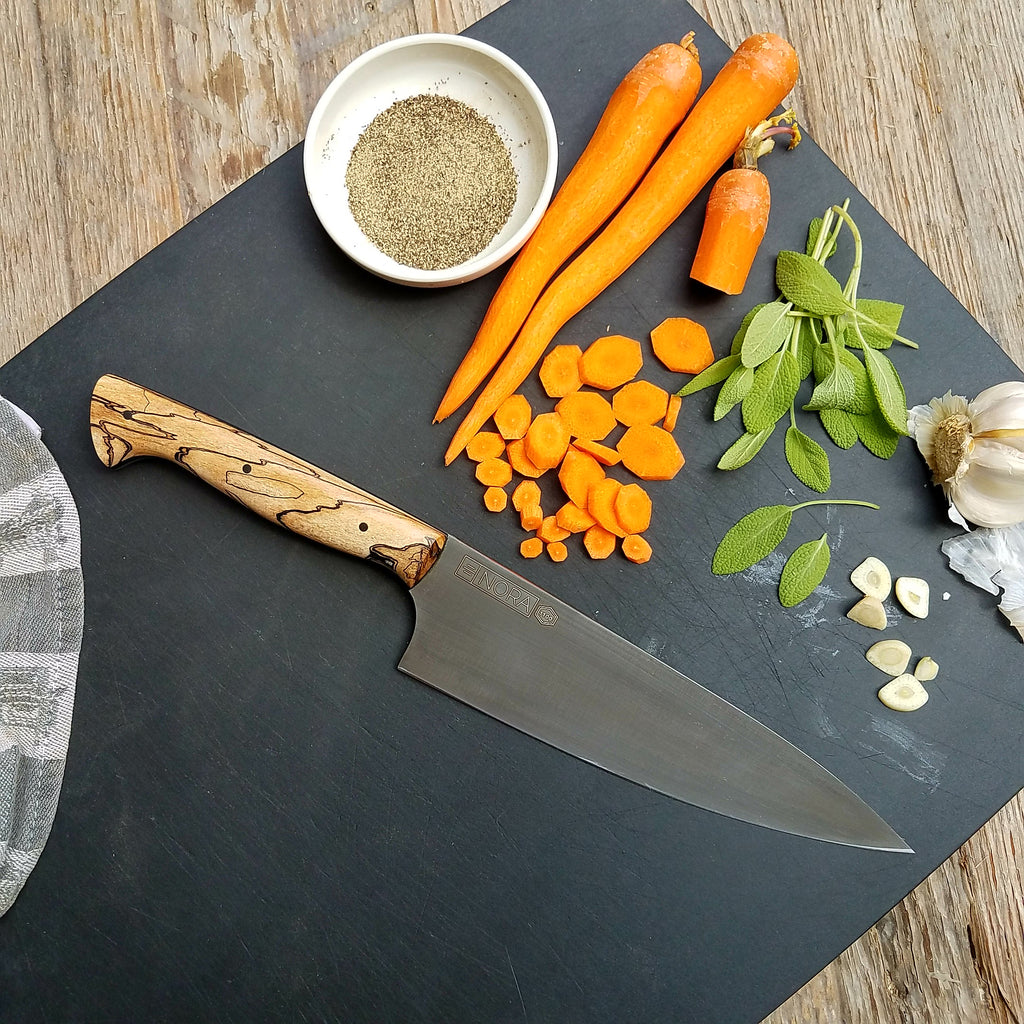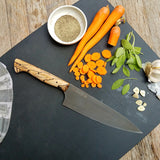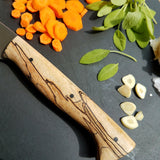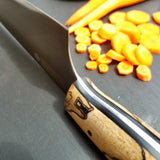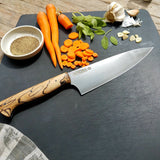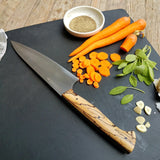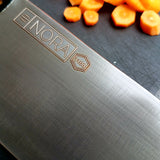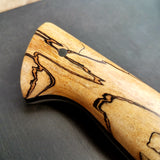 NORA 7 Inch Chef #1100 - CPM M4
$ 389.00
Our take on the classic Chef knife. This is an extremely versatile knife that is a jack-of-all-trades worker and one of the single most important knives in a kitchen.
Every one of our knives is numbered and unique. This NORA knife, number #1100, has been handled with a beautiful piece of highly spalted American maple.  Sometimes all you need is a beautiful piece of wood! The wood has been stabilized for durability and lined with black G10.  Carbon fiber pins coordinate the tones and serve as an accent to the dark veins in the wood.   Length on this is slightly smaller than our standard chef and comes in at a nimble 7 inches.  We love the rustic, classic look of this knife.
Our Chef knife design can easily accommodate both a pinch grip and a full hold. It is a good choice for those with larger hands or those who prefer a full hold on the handle.  Our design is also excellent for those who like a rocking motion while cutting.
The blade on this knife is composed of a high carbon CPM M4 steel.  M4 is the best carbon steel we have ever used in regards to blade performance.  After doing an wide amount of research on this steel, we decided to give it a go and have been extremely impressed with its performance thus far.  CPM M4 steel is unique in that it gets extremely hard at 64 HRC.  The hardness allows it to maintain amazing edge retention but unlike other steels at this hardness its not as brittle or delicate.  It is actually highly wear resistant which means you don't need to worry as much about the knife chipping or breaking. This is in contrast to most every other knife that is this hard. Its a rugged knife for the performance it offers and this combination is rare when you harden steel to beyond 62 HRC.  
The pros of this steel outweigh the cons in our opinion but it must be mentioned that this steel is harder to sharpen than many others so you will need to factor that into your decision as it does represent a bit more maintenance than other knives. Note that we provide free sharpening on all of our knives and we are always happy to help in this respect.  
As this is a carbon steel, the blade will form a slight patina over time.  This is normal and is actually the mark of a beautifully used knife.  Please note, however, that a carbon knife does require more maintenance than its stainless steel counterpart, mainly that it must be washed or wiped clean immediately after each use to prevent unwanted rust.
{ Knife Details }
Metal: CPM-M4 Carbon Steel
Blade Length: 7 inches
Total Length: 12.15 inches
Handle Material(s): Spalted Maple, Black G10, Carbon Fiber Pins
Rockwell Hardness: 66
Grind Type: Full Flat Hybrid