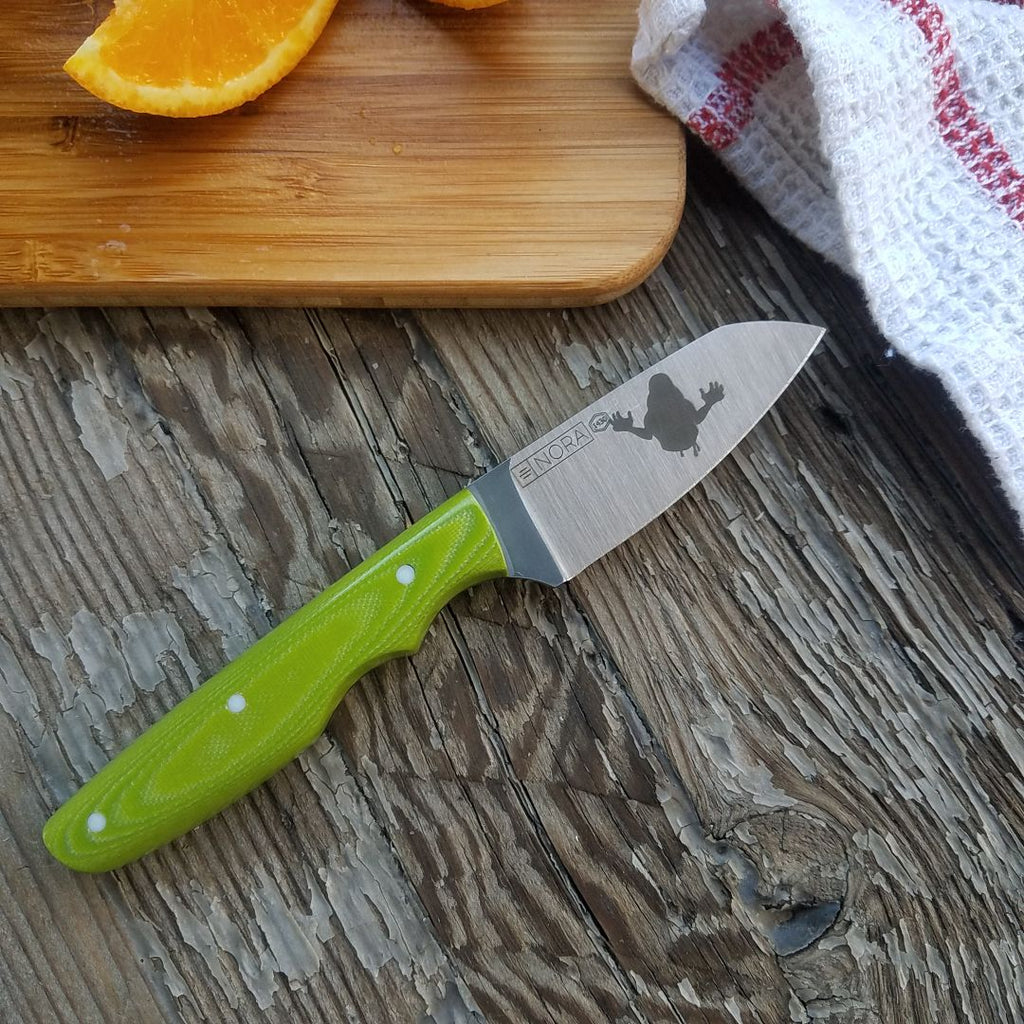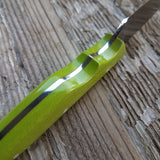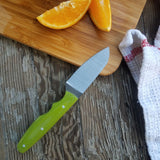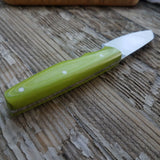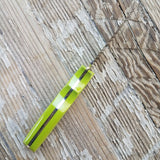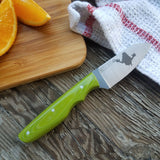 NORA #1430 - AEB-L Stainless Steel - Everyday Carry - Slimer
$ 166.00 $ 0.00
KNIFE HIGHLIGHTS
Blade Type: EDC (Every Day Carry Knife, Small Utility)
Blade Length: 2.25 Inches
Total Length: 6.5 Inches
Handle Style: Western | Right or Left Hand Use
Steel: AEB-L Stainless Steel
Rockwell Hardness: 61 HRC
Grind Type: Full Flat
Handle Materials: Toxic Green G10, White G11 pins
This Blade is Ground...
Thin for Performance (best performance but also more delicate)

>>>Thick for Durability (tough, built to last for heavy wear-n-tear)

Mid-Range with Special Geometry (specially ground for food release and glide but blade is kept slightly thicker for durability)
This Knife Feels...
>>> Heavy in Hand (hefty for its size, durable)

Light (nimble, maneuverable)
Not too heavy, not too light (Mid-Range Weight)
GENERAL USES OF THIS KNIFE:
This knife is an everyday carry design that we made which is a great all around outdoor or EDC knife and will work well for general use in a variety of situations. This blade is stubby but very functional.  Likewise, the handle has a great two-grooved design for finger and thumb grips.  It works well with a variety of different holds.
There is a nice weight to this knife and the edge is left a bit thicker than our chef knives to ensure it can handle tougher use.  We use these little guys everywhere, in the same way you would use a pocket knife.
HANDLE DESIGN & MATERIALS:
Every one of our knives is handmade, unique and numbered. This lil' NORA knife has been handled very simply with a single piece of super-durable toxic green G10. What is G10 you ask? G10 is an incredibly strong & durable fiberglass laminate that was originally used in the electronics industry.  It has been adapted in the knife making world and has proven to be an excellent material for handles as it has high strength, low moisture absorption and can be found in a variety of colors.  Its one of our favorite materials to work with outside of wood.  This stuff is incredibly low-maintenance and will basically last forever.  
ENGRAVING:
We are children of the 80's and there will always be a special place in our hearts for The Ghostbusters. (Ok, who brought the dog?)  So, slimer.
STEEL INFORMATION:
AEB-L STAINLESS STEEL
This knife blade is composed of AEB-L stainless steel which is a high-quality Swedish metal, originally developed for razor blades.  Recently, steel suppliers have made this steel available in thicker sheets and it has proven to be an excellent adaptation for the cutlery industry.
The blade was originally etched but we disliked the mottled appearance of the etch so we lightly re-ground the blades to remove the etch, although the remnants of the etch still remain near the base of the handle.  
AEB-L has a beautiful balance of carbon and chromium and, with proper heat treatment, this steel produces both a very fine edge as well as excellent toughness and edge stability.  The fine grain structure also makes this steel very easy to sharpen. 
As a side note, there are two things we like to mention about this steel:
1.) This steel responds beautifully to honing and if the knife is honed regularly it should need infrequent sharpening.
2.) AEB-L is a stainless steel but just barely.  The concept of stainless steel is very misleading because every steel is, at some level, reactive to water and other elements. 
The higher carbon content in this stainless is what allows it to get a fine edge and higher hardness compared to many other stainless steels but it also has a tendency to sometimes form very fine rust spots on the blade.  If this happens, these are easily removed with a green or red scotch brite pad and usually the rough end of a kitchen sponge will also do the trick. Take extra care to remove any excess wetness that remain on this blade.  Drip drying is NOT recommended.