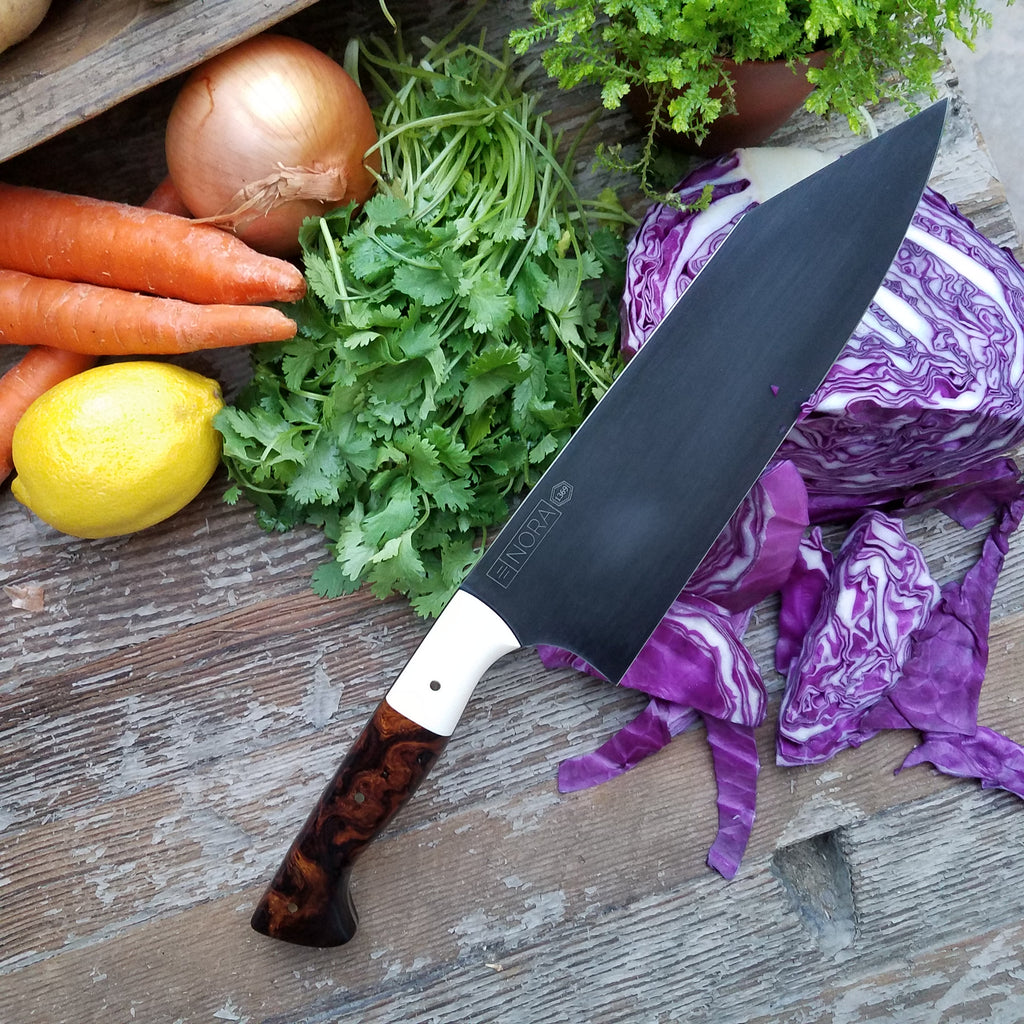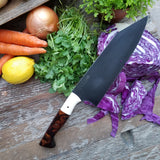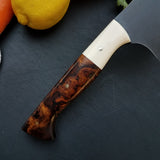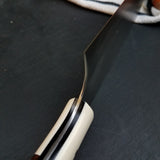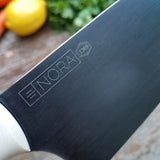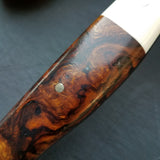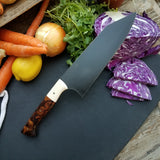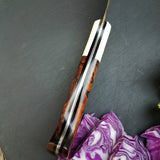 NORA #1369 - 7.5' CPM-M4 Carbon Steel Kiritsuke
$ 300.30 $ 429.00
*PLEASE NOTE.  THIS IS A USED KNIFE. THIS KNIFE WAS SENT TO A MAGAZINE EDITOR FOR TESTING AND WAS USED ONCE AND THEN RETURNED.  FOR ALL INTENTS AND PURPOSES, THE KNIFE IS BASICALLY NEW BUT WE DID NOT FEEL RIGHT NOT DISCLOSING THIS FACT.  THE KNIFE, AS SUCH, HAS BEEN DISCOUNTED ACCORDINGLY.  
KNIFE HIGHLIGHTS
Blade Type: Kiritsuke
Blade Length: 7.5 Inches
Total Length: 11.65 Inches
Handle Style: Western | Right or Left Hand Use
Steel: CPM-M4 Carbon Steel (etched)
Handle Materials: Highly Figured Arizona Ironwood Burl, Imitation Ivory, Brass Pins, Black G10 liner
Rockwell Hardness: 66

 

HRC
Grind Type: Full Flat - Thin
This Blade is Ground...

>>>Thin for Performance (best performance but delicate)
Thick for Durability (tough, built to last for heavy wear-n-tear)
Mid-Range with Special Geometry (specially ground for food release and glide but blade is kept slightly thicker near spine for durability)
This Knife Feels...

Heavy in Hand (Hefty. Durable. G10 is, by its nature, a very dense material so this one has some heft.  If you prefer a very light knife, this will not be the best fit for you.  If you like a little weight to your knife, this will be damn near perfect.)
>>>Light (nimble, maneuverable)
Not too heavy, not too light (Switzerland. Nicely balanced for the size of the knife.)
GENERAL USES OF THIS KNIFE:
KIRITSUKE KNIFE
This blade shape is our take on the traditional Japanese Kiritsuke knife.  
A Kiritsuke knife is one of the very few Japanese knives that is considered multi-purpose. It is a hybrid between a Yanagi (fish slicer) and a Usuba (vegetable knife.). A Kiritsuke knife works well for slicing and breaking down protein but it also excels at vegetable prep. and general purpose tasks. In Japanese kitchens, the Kiritsuke knife is reserved only for the executive Chef as a sign of respect and also due to the skill needed to efficiently use these knives.
Our Kiritsuke design does not have as flat of a belly as the more traditional Japanese style knives. We have done this to allow just the slightest amount of rock in the cut. We feel it adds a bit more versatility to the knife.
HANDLE DESIGN & MATERIALS:
Every one of our knives is handmade, unique and numbered.  This NORA has a base of ultra dense & durable Arizona Ironwood Burl wood complemented with an imitation ivory that is resin based.  Pins are brass and liners in Black G10 were included for added durability. 
*Please note that the wood on this handle is a highly figured burl wood and although Arizona Ironwood is incredibly dense and tough, the burl wood is not without some small voids and inclusions.  For us, this just adds to the beauty of the knife.  All of the voids are very small and cosmetic in nature but if you prefer a pristine piece of wood, please know that this one is not the knife for you.  This is a gnarled, highly figured chunk of wood that looks like it has seen some interesting times.  For us, that is what sometimes makes wood beautiful but it does show slight imperfections so just be aware.
STEEL INFORMATION:
CPM- M4 CARBON STEEL
The blade on this knife is composed of a high carbon CPM M4 steel.  M4 is the best carbon steel we have ever used in regards to blade performance.  After doing a wide amount of research on this steel, we decided to give it a go and have been extremely impressed with its performance thus far.  
CPM M4 steel can be treated to a very high hardness. Hardness in steel generally equates to a finer edge and great edge retention. We took this blade to a solid 66 HRC which is incredibly hard compared to most production knives which fall in the mid to high 50's. 
The high hardness allows it to maintain amazing edge retention but unlike other steels at this hardness, it's not as brittle or delicate.  It is actually highly wear resistant which means you don't need to worry as much about the knife chipping or breaking. As an added bonus, M4 is surprisingly corrosion resistant when compared to other carbon steels.
Its a rugged knife for the performance it offers and this combination is rare when you harden steel to beyond 62 HRC.  Please note though that the steel isn't bullet-proof...if you drop the knife on a very hard surface or try to muscle it through a very hard object (i.e. hard gourd, thick bones, etc.), it is likely to chip.
The pros of this steel outweigh the cons, but it must be mentioned that this steel is harder to sharpen than many others so you will need to factor that into your decision. It does represent a bit more maintenance than other knives. On the flip side, you don't need to sharpen this knife nearly as frequently as others.  
**As this is a carbon steel, the blade will form a slight patina over time.  This is normal and is actually the mark of a beautifully used knife.  Please note, however, that a carbon knife does require more maintenance than its stainless steel counterpart, mainly that it must be washed or wiped clean shortly after each use to prevent unwanted rust or stains. (Some staining or discoloration will be inevitable as a result of the food the knife comes in contact with.) We have acid etched a portion of this knife to protect the steel and start the patina process.  Over time this etch will fade slightly and will be replaced by the individual patina you make while using the knife.