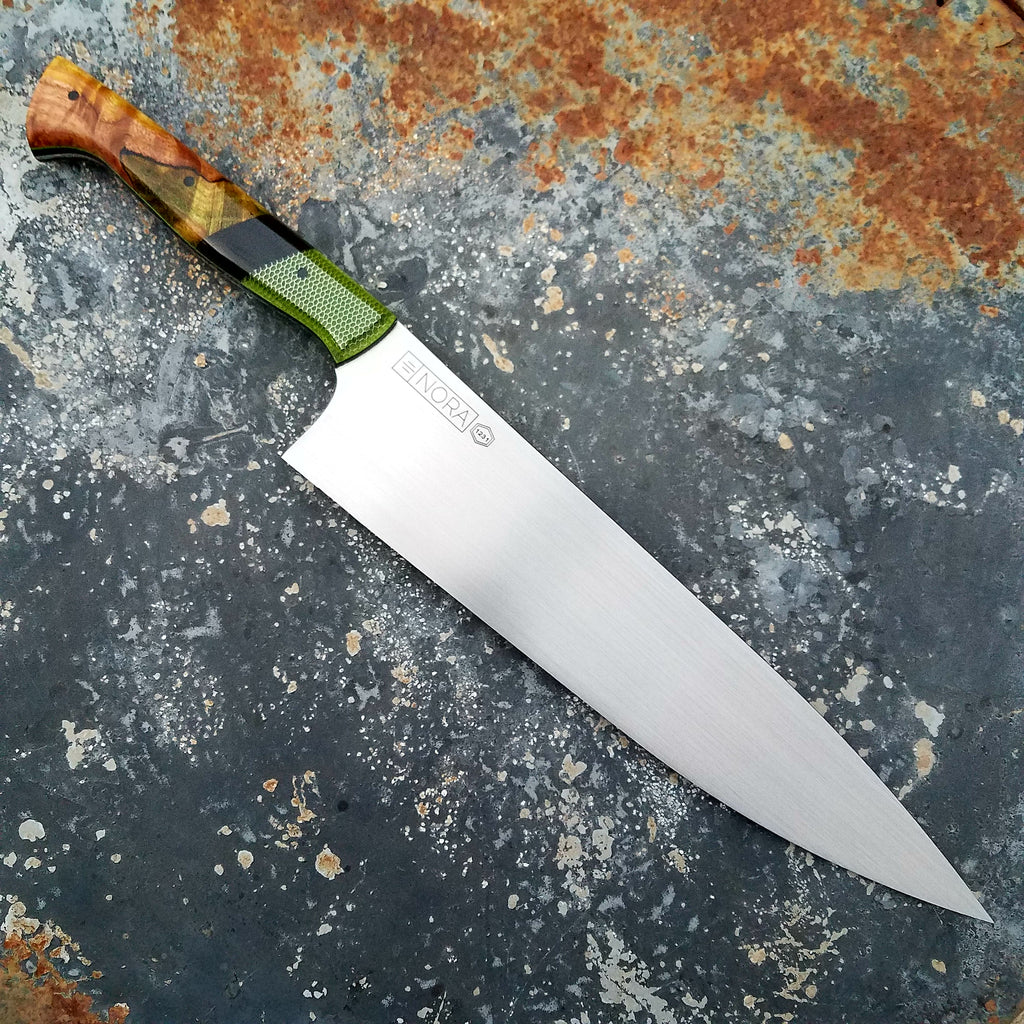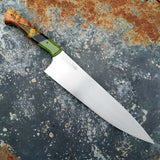 NORA #1231 - 10' Mixed Material Chef
$ 369.00
KNIFE HIGHLIGHTS
Blade Type: Chef
Blade Length: 10 Inches
Total Length: 15.25 Inches
Handle Style: Western | Right or Left Hand Use
Steel: AEB-L Stainless Steel
Handle Materials: Stabilized & dyed spalted maple, Black G10, Translucent Yellow honeycomb C-tek, lime green & Black g10 liners, Black micarta pins
Rockwell Hardness: 62 HRC
Grind Type: Full Flat Hybrid
Weight: 8.9 oz.
This Blade is Ground...

Thin for Performance (best performance but delicate)
Thick for Durability (tough, built to last for heavy wear-n-tear)
>>> Mid-Range with Special Geometry (specially ground for food release and glide but blade is kept slightly thicker for durability)
This Knife Feels...

Heavy in Hand (hefty, durable)
Light (nimble, maneuverable)
>>>Not too heavy, not too light (Switzerland)
GENERAL USES OF THIS KNIFE
CHEF KNIFE
Our take on the classic Chef knife. This is an extremely versatile knife that is a jack-of-all-trades worker and one of the single most important knives in a kitchen. Our Chef knife design can easily accommodate both a pinch grip and a full hold.  It is a good choice for those with larger hands or those who prefer a full hold on the handle.  Our design is also excellent for those who like a rocking motion while cutting.
STEEL INFORMATION:
AEB-L STAINLESS STEEL
This knife blade is composed of AEB-L stainless steel which is a high-quality Swedish metal, originally developed for razor blades.  Recently, steel suppliers have made this steel available in thicker sheets and it has proven to be an excellent adaptation for the cutlery industry.
AEB-L has a beautiful balance of carbon and chromium and, with proper heat treatment, this steel produces both a very fine edge as well as excellent toughness and edge stability.  The fine grain structure also makes this steel very easy to sharpen. We believe it is one of the finest stainless steels available on the market today for use with kitchen knives.
As a side note, there are two things we like to mention about this steel:
1.) This steel responds beautifully to honing and if the knife is honed regularly it should need infrequent sharpening.
2.) AEB-L is a stainless steel but just barely.  The concept of stainless steel is actually misleading because every steel is, at some level, reactive to water and other elements. 
The higher carbon content in this stainless is what allows it to get a fine edge and higher hardness than other stainless steels but it also has a tendency to sometimes form very fine rust spots on the blade.  If this happens, these are easily removed with a green or red scotch brite pad and usually the rough end of a kitchen sponge will also do the trick. Take extra care to remove an excess wetness that remain on this blade.  Drip drying is not recommended.
HANDLE DESIGN & MATERIALS:
Every one of our knives is handmade, unique and numbered.  NORA#1231 is a mix of stabilized & dyed spalted maple wood, black G10 and a translucent yellow c-tek that actually appears green due to the lime green G10 liner behind the material.  The spalted maple piece is a striking piece of wood that has beautiful spalting and the dye, which has tones of both green and yellow, has taken better in some areas than others which makes for a very cool effect in the wood.  Its a piece unlike anything we have seen before in regards to how the dye follows along the spalting perfectly.  The c-tek and black G10 serve as great compliments to the wood and we lined the knife with a dual liner of black and green G10 which sort of brings the whole design together.  Its one of our favorite builds of late and we really love the look and feel of this one.
Wood stabilization is an added feature that we offer with our knives. Wood that is stabilized has been injected with a clear acrylic resin under a vacuum process. Stabilization helps to minimize, if not eliminate, any cracking, warping, shrinkage and/or expanding of the material. Stabilized wood will absorb very little water and is generally impervious to oils. The process helps to ensure your knife has a long lifespan in the kitchen.