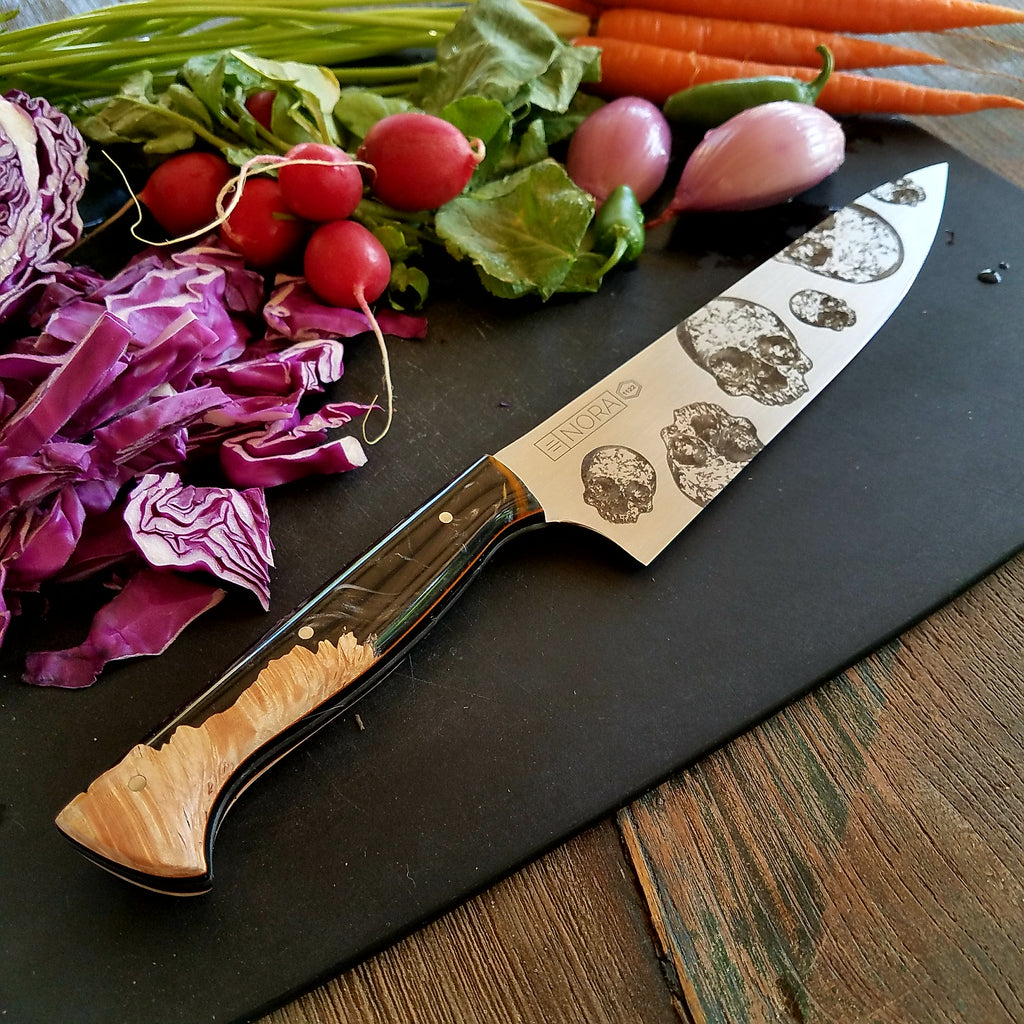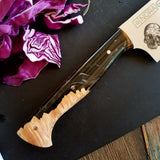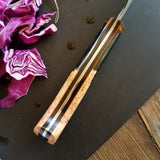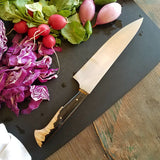 NORA #1122 - Skull Chef - AEB-L Stainless
$ 365.00
KNIFE HIGHLIGHTS
Blade Type: Chef
Blade Length: 8.5 Inches
Total Length: 13 Inches
Handle Style: Western | Right or Left Hand Use
Steel: AEB-L Stainless Steel
Handle Materials: Big Leaf Maple Burl Wood (stabilized), Urethane Resins, Black & Orange G10 Liners, Stainless Steel Pins
Rockwell Hardness: 62 HRC
Grind Type: Full Flat Hybrid
Weight: 7.6 oz
This Blade is Ground...

Thin for Performance (best performance but somewhat delicate)
Thick for Durability (tough, built to last for heavy wear-n-tear)
>>> Mid-Range with Special Geometry (specially ground for food release and glide but blade is kept slightly thicker for durability)
This Knife Feels...

Heavy in Hand (hefty, durable)
Light (nimble, maneuverable)
>>> Not too heavy, not too light (Switzerland)
GENERAL USES OF THIS KNIFE
CHEF KNIFE
Our take on the classic Chef knife. This is an extremely versatile knife that is a jack-of-all-trades worker and one of the single most important knives in a kitchen. Our Chef knife design can easily accommodate both a pinch grip and a full hold.  It is a good choice for those with larger hands or those who prefer a full hold on the handle.  Our design is also excellent for those who like a rocking motion while cutting.
STEEL INFORMATION:
AEB-L STAINLESS STEEL
This knife blade is composed of AEB-L stainless steel which is a high-quality Swedish metal, originally developed for razor blades.  Recently, steel suppliers have made this steel available in thicker sheets and it has proven to be an excellent adaptation for the cutlery industry.
AEB-L has a beautiful balance of carbon and chromium and, with proper heat treatment, this steel produces both a very fine edge as well as excellent toughness and edge stability.  The fine grain structure also makes this steel very easy to sharpen. We believe it is one of the finest stainless steels available on the market today for use with kitchen knives.
As a side note, this steel responds beautifully to honing and if the knife is honed regularly it should need infrequent sharpening.
HANDLE DESIGN & MATERIALS:
Every one of our knives is handmade, numbered and unique. This NORA knife, number #1122, is a hybrid mix of wood and resin.  The wood is a beautiful, live edge piece of Big Leaf Maple Burl that has been stabilized for durability.  The resin has hues of mainly black swirled with small accents of orange, white and silver.  The color scheme is aptly named Hallows Eve and the custom skull engraving pairs well with the darker colors.  
Wood stabilization is an added feature that we offer with our knives. Wood that is stabilized has been injected with a clear acrylic resin under a vacuum process. Stabilization helps to minimize, if not eliminate, any cracking, warping, shrinkage and/or expanding of the material. Stabilized wood will not absorb water and is generally impervious to oils. The process helps to ensure your knife has a long lifespan in the kitchen.