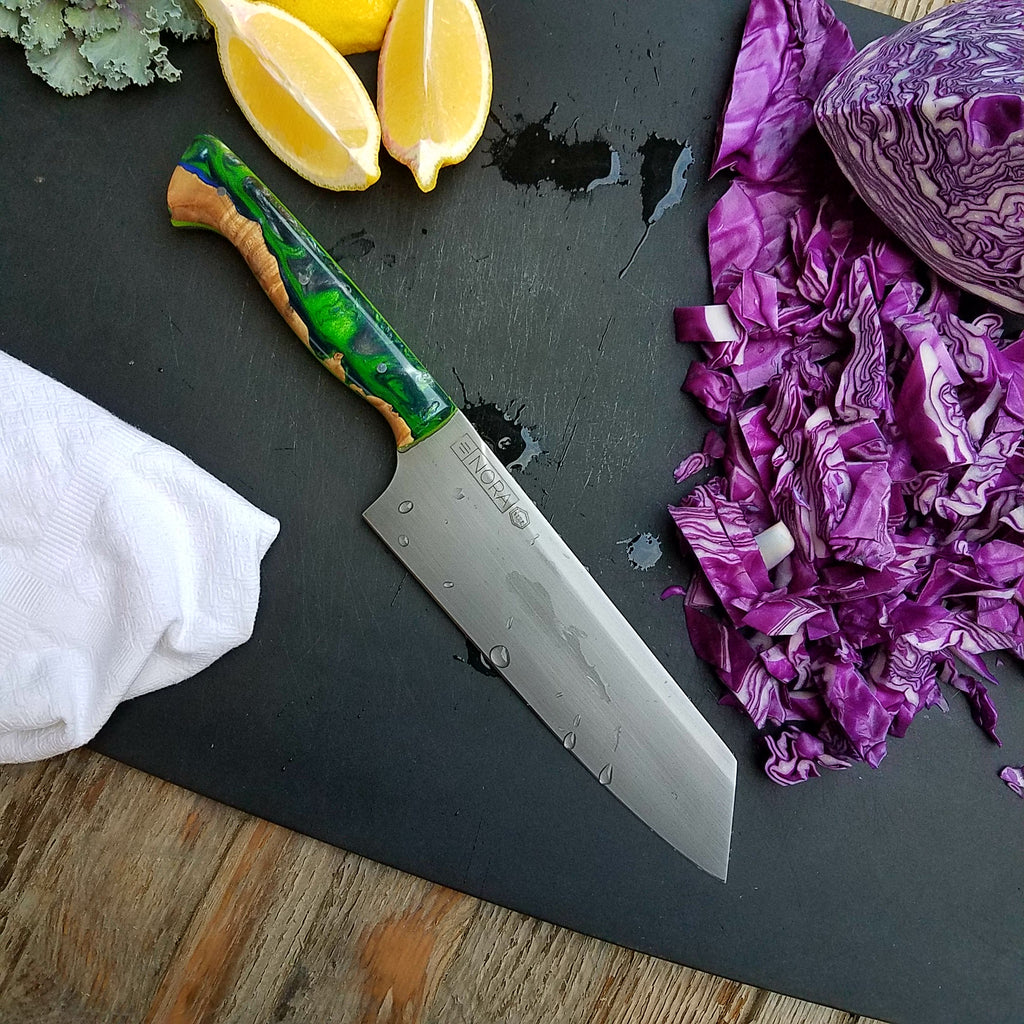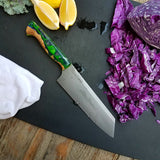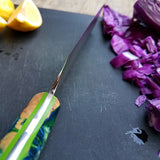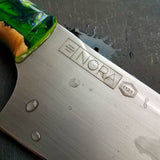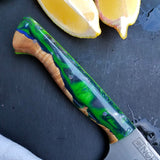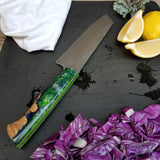 NORA #1121 - 7' Banno Bunka - 01 Carbon Steel
$ 330.00
KNIFE HIGHLIGHTS
Blade Type: Banno Bunka-Bocho
Blade Length: 7 Inches
Total Length: 13 Inches
Handle Style: Western | Right or Left Hand Use
Steel: O1 Carbon Steel
Rockwell Hardness: 62 HRC
Grind Type: 3/4 Flat with Convexing w/swage
Weight: 10.6 oz
Handle Materials: Green G10 liner, stainless steel pins, urethane resins, Big Leaf Maple Burl
This Blade is Ground...

Thin for Performance (Great Performance but somewhat delicate)
>>>Thick for Durability (tough, built to last for heavy wear-n-tear)
Mid-Range with Special Geometry (specially ground for food release and glide but blade is kept slightly thicker for durability)
This Knife Feels...

>>> Heavy in Hand (hefty, durable)
Light (nimble, maneuverable)
Not too heavy, not too light (Switzerland)
GENERAL USES OF THIS KNIFE
Banno Bunka-Bocho
Banno Bunka knives are general, all-purpose utility knives used in Japan. They function similarly to a Santoku but they have a little more depth when it comes to heavy tasks in the kitchen. This knife is HEFTY by design and it will work well breaking down your standard vegetables and meat but it can also do heavier work, similar to a Deba, in regards to breaking down joints, small bones, etc. This knife was left very thick at the spine and is meant to be a workhorse.  To be very clear, this is NOT a laser.  This is a heavy, durable knife that can handle pretty much any task in the kitchen.  The taller blade allows great versatility in cutting larger items and the weight provides the necessary heft to handle some of the tougher protein breakdowns you may encounter.  We really like this style knife as it feels like a hybrid between a number of different knives.
STEEL INFORMATION: 
01 Carbon Steel
The blade on this knife is composed of a high carbon O1 tool steel.  O1 tool steel is a great all around choice for carbon steel as it is easily sharpened and the fine grain structure produces a very sharp edge. It is also an economical alternative to some of the more expensive Japanese carbon steels while offering similar benefits and a more hardy steel. HRC hardness on this knife is at a solid 62.    
As this is a carbon steel, the blade will form a slight patina over time.  This is normal and actually the mark of a beautifully used knife.  Please note, however, that a carbon knife does require more maintenance than its stainless steel counterpart, mainly that it must be washed or wiped clean shortly after each use to prevent unwanted rust or stains.  We have acid etched this knife to protect the steel and start the patina process.  Over time this etch will fade slightly and will be replaced by the individual patina you make while using the knife.
HANDLE DESIGN & MATERIALS:
Every one of our knives is handmade, numbered and unique. This NORA knife, number #1121, is a hybrid mix of wood and resin.  The wood is a beautiful, live edge piece of Big Leaf Maple Burl that has been stabilized for durability.  The resin has rich hues of lime green, navy blue and silver. A green G10 liner complements the colors in the handle and the pins are a classic stainless steel. Its a great mix and we like the clean, classic feel of this knife.
Wood stabilization is an added feature that we offer with our knives. Wood that is stabilized has been injected with a clear acrylic resin under a vacuum process. Stabilization helps to minimize, if not eliminate, any cracking, warping, shrinkage and/or expanding of the material. Stabilized wood will not absorb water and is generally impervious to oils. The process helps to ensure your knife has a long lifespan in the kitchen.