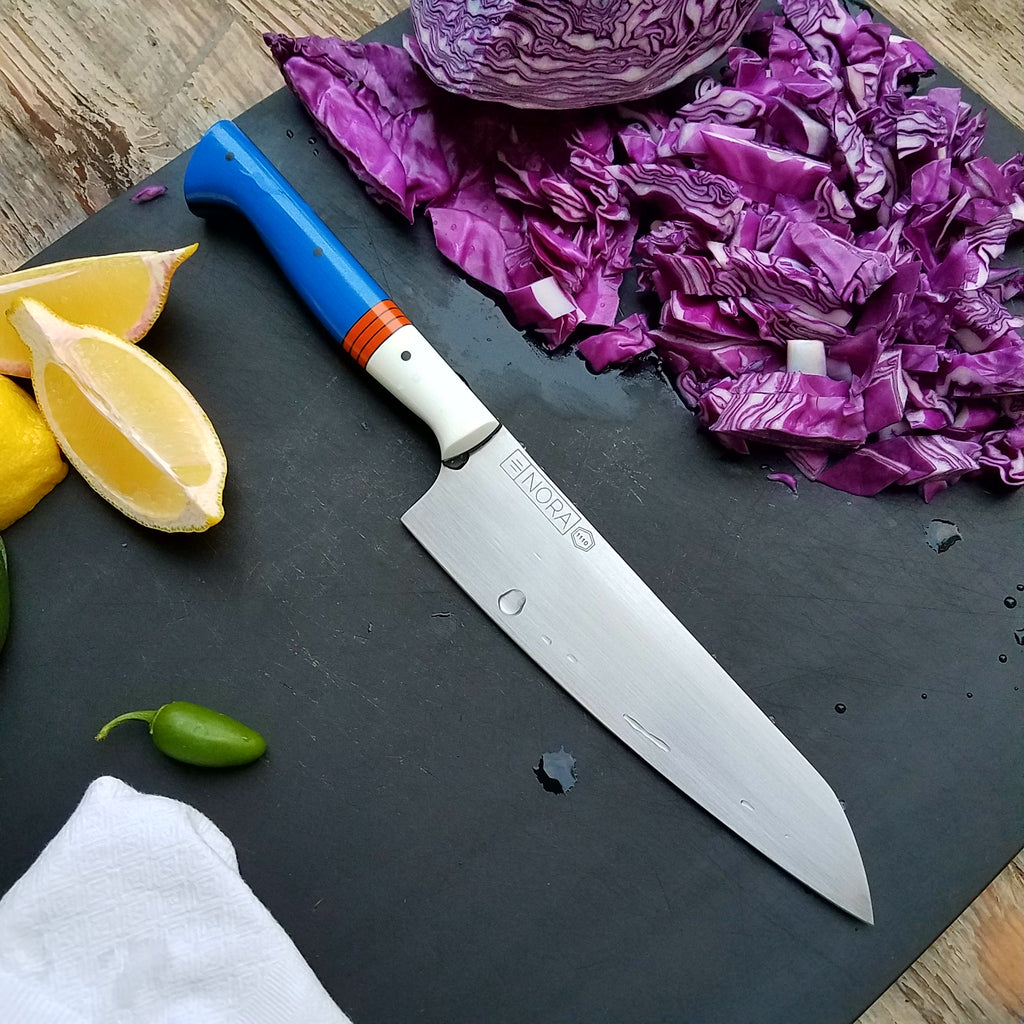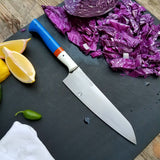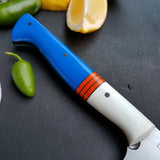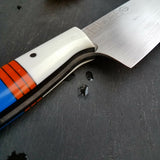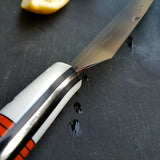 NORA #1110 - 7' CTS-XHP Gyuto - Blue | White G10
$ 340.00
KNIFE HIGHLIGHTS
Blade Type: Gyuto
Blade Length: 7 Inches
Total Length: 12.25 Inches
Handle Style: Western | Right or Left Hand Use
Steel: CTS-XHP Stainless Steel
Handle Materials: White, Blue & Orange G10, Black G10 Liner, Black Carbon Fiber Pins
Rockwell Hardness: 62 HRC
Grind Type: Hybrid Full Flat
Weight: 8.2 oz
This Blade is Ground...

Thin for Performance (best performance but somewhat delicate)
Thick for Durability (tough, built to last for heavy wear-n-tear)
>>> Mid-Range with Special Geometry (specially ground for food release and glide but blade is kept slightly thicker for durability)
This Knife Feels...

>>> Heavy in Hand (hefty, durable)
Light (nimble, maneuverable)
Not too heavy, not too light (Switzerland)
GENERAL USES OF THIS KNIFE
The Gyuto is the Japanese version of the classic Western chef's knife but the blade tends to be thinner and holds a sharper edge. A gyuto is similar to a utility knife in that it is a multipurpose knife that can handle virtually every task including chopping, mincing and slicing meat, fish, vegetables and fruit.  Our gyuto has a long, western style handle with a thin nimble neck which makes the knife easy to grip and form into your hand.  The blade is a Japanese inspired profile with a fair amount of belly in the blade to allow for a gentle rocking motion.
Please note that we handmake each knife and we make different knives for different preferences.  Some people like very light, nimble knives and others like a bit more weight in their knives to help with some of the heavier tasks in the kitchen.  This particular knife is on the heavier side.  The G10 that comprises the majority of this handle is heavier than most materials that we use and it makes for a nice, weighty knife.  Again, weight is a very personal thing and each person is different.  If you like your knives heavier, this will be a great fit.
STEEL INFORMATION:
CTS-XHP Stainless Steel
This knife blade is made from CTS-XHP stainless steel which is a premium stainless steel that we rarely offer because it is fairly hard to source. This steel has excellent durability for a stainless steel and it also can be taken to a fairly high hardness at 62 HRC. A higher hardness generally translates to greater edge retention and sharpness which is why this is such a sought after steel.  Besides this, the actual stain resistance on this stainless is high. This may seem counter-intuitive as it is a "stainless" steel but many other stainless steels have a tendency to form small rust spots.  They are "stainless," but just barely.  
In a nutshell, this steel has a great combination of performance, durability and stain resistance. You're not sacrificing one for the other which is nice when it comes to kitchen use. 
Handle Design & Materials:
Every one of our knives is handmade, numbered and unique. This NORA knife, number #1110, has been handled with a clean mix of materials including White, Blue & Orange G10.  We liked the simple, graphic pattern that was created and the durability of the G10 is second to none.  This knife will see you through decades worth of use and the handle will continue to look great.  The knife is finished with a Black G10 liner and black carbon fiber pins that align with the overall color scheme.
Full disclosure...we aren't perfect over here.  During a late night engraving session we accidently engraved two knives with the same number.  So...there is another NORA #1110 out there but if it makes you feel any better, your knife falls under a short but distinguished list of duplicates that honor our stupidity over here.