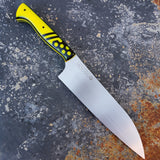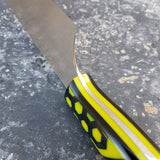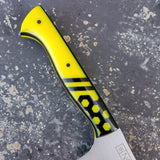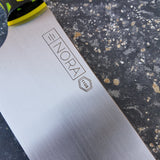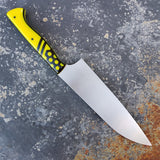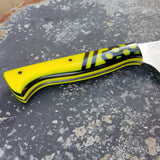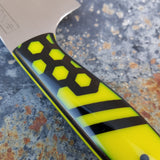 NORA #1105 - 7.5 Inch Santoku - Honeycomb
$ 340.00
Our version of a Japanese Santoku, this is an extremely versatile knife that functions similarly to a Chef knife.  Santoku literally translates from Japanese as "three virtues" which refers to the three tasks this knife does exceedingly well: slice, dice, and mince. While Santoku knives generally lend themselves towards a chopping motion, we have also designed the blade with enough belly to facilitate a nice rocking motion as well.
This is a revamp of our original "NORA" knife. We started by making a single Santoku design and that is all we sold our first year in business. Since then we have had roughly 4 different versions of our Santoku and I think we finally arrived on a blade profile and handle that really work great. We took our original Santoku blade profile and combined it with our larger handle style. The two work well together.
Every one of our knives is numbered and unique. This NORA knife, number #1105, has been handled with a custom designed scale, handmade here in-house that incorporates a honeycomb pattern in a graphic black and yellow color scheme.  The resin material used in this handle is durable and very easy to clean but keep in mind that it can occasionally be slippery if you are working with particularly wet/slimy subject matter.
The blade on this knife is composed of a high carbon 52100 steel.  52100 steel is a great all around choice for carbon steel as it is easily sharpened and the fine grain structure produces a very sharp edge. It is also an economical alternative to some of the more expensive Japanese carbon steels while offering similar benefits and a more hardy steel.  HRC hardness on this knife is at a solid 62. This blade has been etched to help prevent rust.  The etch leaves the blade slightly darker with a somewhat rustic look.  Each blade will form its own markings and patina.  This is normal and by design.
As this is a carbon steel, the blade will form a slight patina over time.  This is normal and is actually the mark of a beautifully used knife.  Please note, however, that a carbon knife does require more maintenance than its stainless steel counterpart, mainly that it must be washed or wiped clean immediately after each use to prevent unwanted rust.
{ Knife Details }
Metal:52100 Carbon Steel
Blade Length: 7.5 inches
Total Length: 12.5 inches
Handle Material(s): Yellow & Black Resins (Acrylic & Urethane Based), Carbon Fiber Pins, Black G10 liner
Rockwell Hardness: 62 
Grind Type: Full Flat Hybrid