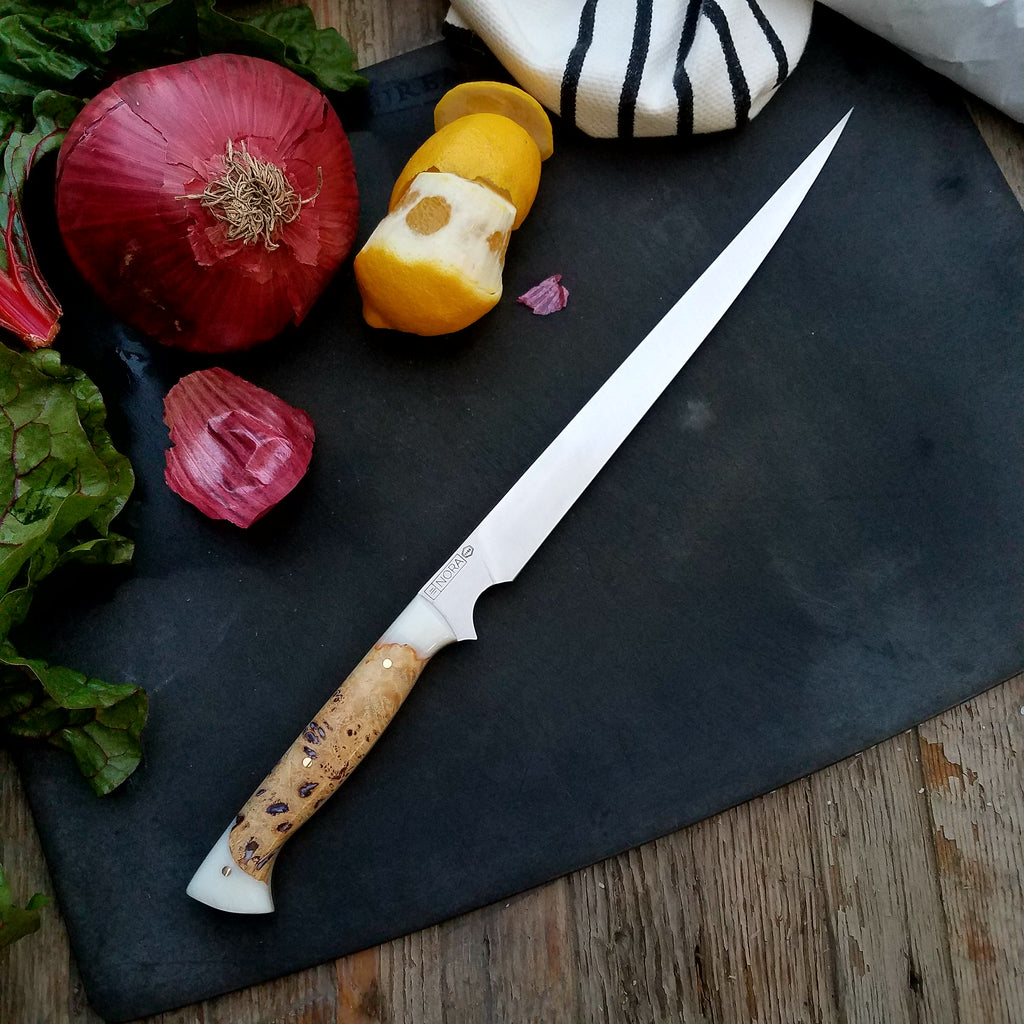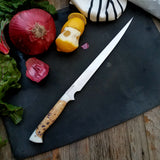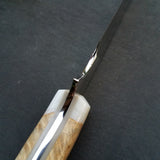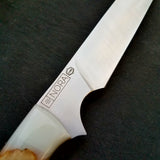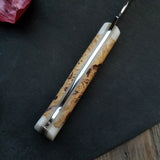 NORA 10 Inch Filet Knife #1153 - White Pearl Shokwood
$ 409.00 $ 0.00
KNIFE HIGHLIGHTS
Blade Type: Filet
Blade Length: 10 Inches
Total Length: 16 Inches
Handle Style: Western | Right or Left Hand Use
Steel: CTS-XHP Stainless Steel
Handle Materials: American Buckeye Burl (stabilized), Urethane Based Resins, Brass Pins, Tan G10 Liner
Rockwell Hardness: 62 HRC
Grind Type: Full Flat
Weight: .39 lbs | 6.1 oz
Flex: Mid-Range, springy, stiffer towards handle and more flex more towards the tip
This Blade is Ground...

>>>Thin for Performance (best performance but more delicate)
Thick for Durability (tough, built to last for heavy wear-n-tear)
Mid-Range with Special Geometry (specially ground for food release and glide but blade is kept slightly thicker for durability)
This Knife Feels...

Heavy in Hand (hefty, durable)
>>> Light (nimble, maneuverable)
Not too heavy, not too light (Switzerland)
GENERAL USES OF THIS KNIFE
This is our long style filet knife which has a wonderful mix of performance, elegance and durability.  We crafted this 10' Inch filet with CTS-XHP stainless steel which is known for its excellent durability, edge retention and also stain resistance which is critical in saltwater applications.  You can read more about the steel below. 
We hand ground this knife to have a nice balance where it feels flexible but not flimsy.  The flex increases towards the tip of the blade but remains stiffer towards the handle.  Its longer length ensures that it should serve you well when breaking down any number of fish, large or small.
STEEL INFORMATION:
CTS-XHP Stainless Steel
This knife blade is made from CTS-XHP stainless steel which is a premium stainless steel that we rarely offer because it is fairly hard to source. This steel has excellent durability for a stainless steel and it also can be taken to a fairly high hardness at 62 HRC. A higher hardness generally translates to greater edge retention and sharpness which is why this is such a sought after steel.  Besides this, the actual stain resistance on this stainless is high. This may seem counter-intuitive as it is a "stainless" steel but many other stainless steels have a tendency to form small rust spots.  They are "stainless," but just barely.  
In a nutshell, this steel has a great combination of performance, durability and stain resistance. You're not sacrificing one for the other which is nice when it comes to kitchen use.  
HANDLE DESIGN & MATERIALS:
Every one of our knives is handmade, numbered and unique. This NORA knife, number #1153, is a hybrid mix of wood and resin.  The wood is a beautiful, live edge piece of American Buckeye Burl wood that has been stabilized for durability.  The resin has hues of shimmering white and pearl.  It's a very classic looking, elegant knife that should serve you well for many years to come.
Wood stabilization is an added feature that we offer with our knives. Wood that is stabilized has been injected with a clear acrylic resin under a vacuum process. Stabilization helps to minimize, if not eliminate, any cracking, warping, shrinkage and/or expanding of the material. Stabilized wood will not absorb water and is generally impervious to oils. The process helps to ensure your knife has a long lifespan in the kitchen.