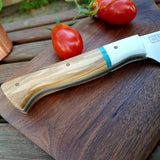 NORA 8.5" Chef #1089 - XHP Stainless Steel
$ 365.00
Our take on the classic Chef knife. This is an extremely versatile knife that is a jack-of-all-trades worker and one of the single most important knives in a kitchen.
Every one of our knives is handmade, numbered and unique. This NORA knife, number #1089, has been handled with a beautiful mix of materials including White G10, a teal dyed stripe of box elder wood and a base of beautifully figured olivewood.  All of our wood is stabilized for durability.
Wood stabilization is an added feature that we offer with our knives.  Wood that is stabilized has been injected with a clear acrylic resin under a vacuum process. Stabilization helps to minimize, if not eliminate, any cracking, warping, shrinkage and/or expanding of the material. Stabilized wood will not absorb water and is generally impervious to oils.  The process helps to ensure your knife has a long lifespan in the kitchen. 
Our Chef knife design can easily accommodate both a pinch grip and a full hold.  It is a good choice for those with larger hands or those who prefer a full hold on the handle.  Our design is also excellent for those who like a rocking motion while cutting.  Keep in mind that we have a variety of different grinds that we use depending on the intended use.  For this particular knife, we have kep the blade slightly thicker than usual.  We call this our "worker" grind because this is not a delicate, laser style knife.  This is a hearty grind that is both durable and smooth.  Its meant to get the job done and be a knife that will last you for the long haul.
On that note, this knife blade is composed of CTS-XHP stainless steel which is a premium stainless steel that we rarely offer because it is fairly hard to source.  This steel has excellent durability for a stainless steel and it also can be taken to a fairly high hardness at 62 HRC. A higher hardness generally translates to greater edge retention and sharpness which is why this is such a sought after steel.  Besides this, the actual stain resistance on this stainless is high.  This may seem counter-intuitive as it is a "stainless" steel but many other stainless steels we use have a tendency to form small rust spots.  They are "stainless," but just barely.  This steel has a great combination of performance and stain resistance.  Your not sacrificing one for the other with this steel.  In general, this is an excellent steel choice that combines great performance with heightened durability. 
{ Knife Details }
Metal: CTS XHP Stainless Steel
Blade Length: 8.5 inches
Total Length: 13.25 inches
Handle Material(s): Olivewood, Box Elder (dyed), White G10, natural micarta pins, tan G10 liner
Rockwell Hardness: 62
Grind Type: Full Flat Hybrid