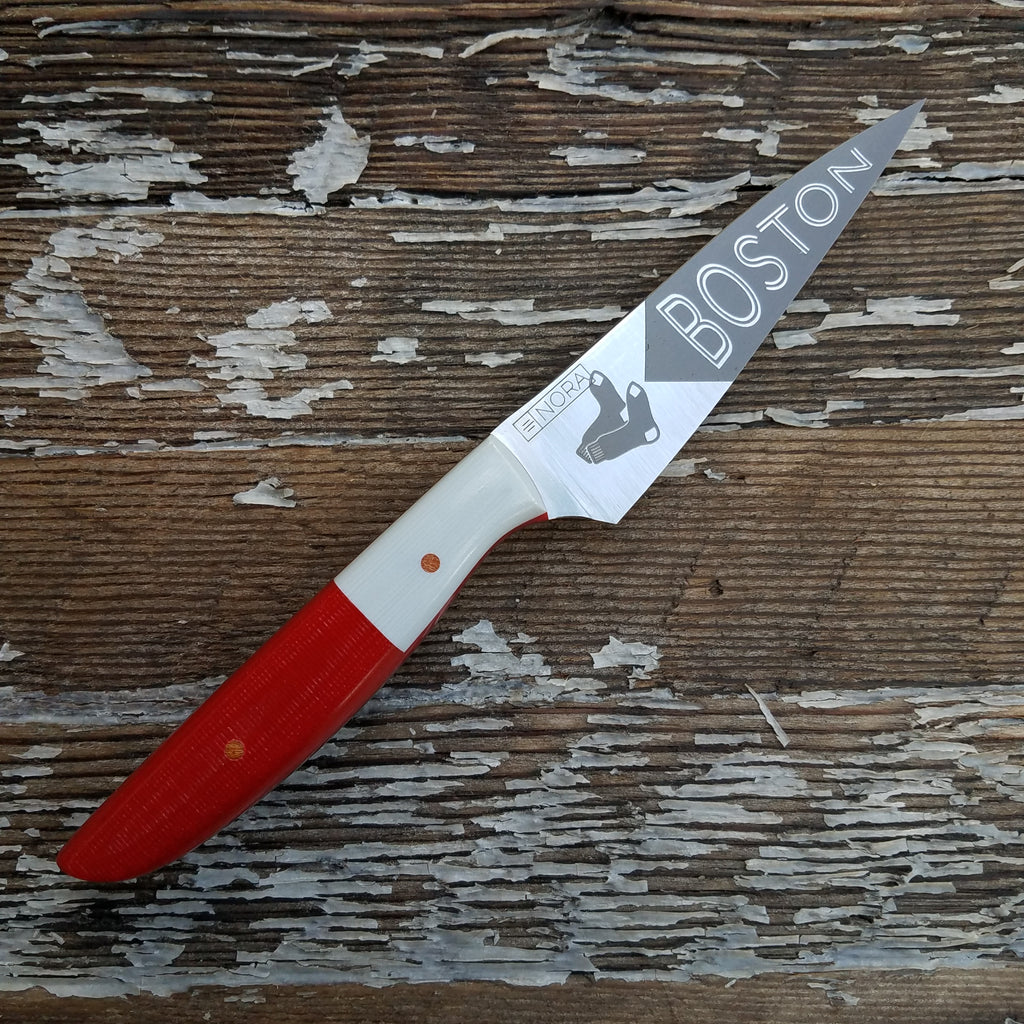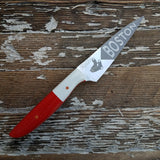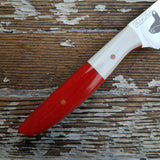 NORA #21-37-42 - 3.5' Paring - The Red Seat
$ 209.00
KNIFE HIGHLIGHTS
Blade Type: Paring
Blade Length: 3.5 Inches
Total Length: 8 Inches
Handle Style: Western | Right or Left Hand Use
Steel: AEB-L Stainless Steel
Rockwell Hardness: 61 HRC
Grind Type: Full Flat
Handle Materials: Gray & Brick Red G10, Brick Red G10 liners, Natural Micarta Pins
This Blade is Ground...
Thin for Performance (best performance but also more delicate)

>>>Thick for Durability (tough, built to last for heavy wear-n-tear)

Mid-Range with Special Geometry (specially ground for food release and glide but blade is kept slightly thicker for durability)
This Knife Feels...
>>> Heavy in Hand (hefty, durable)

Light (nimble, maneuverable)
Not too heavy, not too light (Mid-Range Weight)
GENERAL USES OF THIS KNIFE
The paring knife is often overlooked but the truth is it is one of the single most-used knives in the kitchen. It is also unique with respect to where it is used...not just on a cutting board but also in hand. 
With this in mind, we redesigned our paring knife to have a smaller, more nimble handle that feels great in hand and gives its user a wide amount of maneuverability. This knife works wonderfully for small tasks that are easier completed by using the knife in-hand, such as hulling a strawberry, paring fruit, or deveining shrimp.
HANDLE DESIGN & MATERIAL INFORMATION
Every one of our knives is handmade, unique and numbered in order of production since we originally began NORA. There are a few exceptions to this rule though and this little paring is one of them. This NORA paring knife, numbered 21-37-42, represents the seat location of the famous Red Seat at Fenway park.  The red seat marks the spot where Ted Williams hit a towering 502 ft. home run to that exact seat.  
In that spirit, this paring has been handled with Red Sox colors. Why the Red Sox?...because they were one part of the best damn World Series we have seen in a looong time. (We watched ALL 18 innings of Game 3 this year...even though Dodgers took this game it was so good, so good, so good! Sweeet Caroline!!) 
We made the handle from a near indestructible material called G10. What is G10 you ask? G10 is an incredibly strong & durable fiberglass laminate that was originally used in the electronics industry.  It has been adapted in the knife making world and has proven to be an excellent material for handles as it has high strength, low moisture absorption and can be found in a variety of colors.  Its one of our favorite materials to work with outside of wood.
The engravings are relatively straightforward and self-explanatory.  On the front is a Sox style logo and and the rear has the knife number encased in a small stadium chair (The Red Chair).  On the spine of the knife you will find engraved every year that the Sox have won a world series title including the most recent win in 2018. 
STEEL INFORMATION:
AEB-L STAINLESS
This knife blade is composed of AEB-L stainless steel which is a high-quality Swedish metal, originally developed for razor blades.  Recently, steel suppliers have made this steel available in thicker sheets and it has proven to be an excellent adaptation for the cutlery industry.
AEB-L has a beautiful balance of carbon and chromium and, with proper heat treatment, this steel produces both a very fine edge as well as excellent toughness and edge stability.  The fine grain structure also makes this steel very easy to sharpen. We believe it is one of the finest stainless steels available on the market today for use with kitchen knives.
As a side note, this steel responds beautifully to honing and if the knife is honed regularly it should need infrequent sharpening.