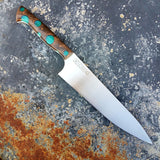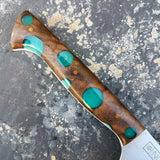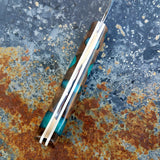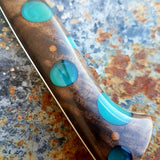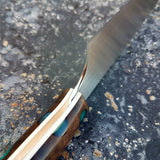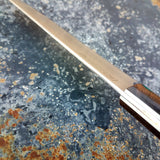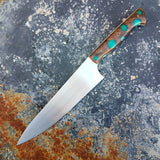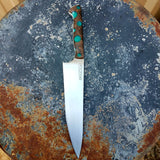 Chef #1101 - 52100 Carbon Steel - Teal Dots
Our take on the classic Chef knife. This is an extremely versatile knife that is a jack-of-all-trades worker and one of the single most important knives in a kitchen. Blade length on this knife comes in at 8.5 inches.  Long enough for most kitchen tasks but still nimble in hand.
Our Chef knife design can easily accommodate both a pinch grip and a full hold.  It is a good choice for those with larger hands or those who prefer a full hold on the handle.  Our design is also excellent for those who like a rocking motion while cutting.
Every one of our knives is numbered and unique. This NORA knife, number #1102, is a hybrid mix of wood and resin.  The wood is a beautiful, stabilized figured walnut and we cut and cast a bubbly pattern of white resin circles in the wood.  Its a playful design and we like the classic color combo.  
Wood stabilization is an added feature that we offer with our knives.  Wood that is stabilized has been injected with a clear acrylic resin under a vacuum process. Stabilization helps to minimize, if not eliminate, any cracking, warping, shrinkage and/or expanding of the material. Stabilized wood will not absorb water and is generally impervious to oils.  The process helps to ensure your knife has a long lifespan in the kitchen. 
The blade on this knife is composed of a high carbon 52100 steel.  52100 steel is a great all around choice for carbon steel as it is easily sharpened and the fine grain structure produces a very sharp edge. It is also an economical alternative to some of the more expensive Japanese carbon steels while offering similar benefits and a more hardy steel.  HRC hardness on this knife is at a solid 62. This blade has been etched to help prevent rust.  The etch leaves the blade slightly darker with a somewhat rustic look.  Each blade will form its own markings and patina.  This is normal and by design.
As this is a carbon steel, the blade will form a slight patina over time.  This is normal and is actually the mark of a beautifully used knife.  Please note, however, that a carbon knife does require more maintenance than its stainless steel counterpart, mainly that it must be washed or wiped clean immediately after each use to prevent unwanted rust.
{ Knife Details }
Metal: O1 Carbon Steel
Blade Length: 8.5 inches
Total Length: 13.25 inches
Handle Material(s): Stabilized Figured Walnut, Urethane Resins, White G10 liner, Natural Micarta Pins
Rockwell Hardness: 62
Grind Type: Full Flat Hybrid